Photo by Christiann Koepke
Winter Spritz
Note this has a low abv, great for "not" getting too drunk in the middle of the day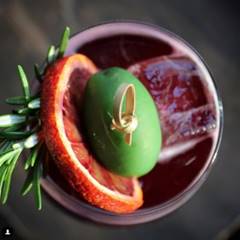 Created by Maxime Belfand, Saxon + Parole
Ingredients:
1 oz. Martini & Rossi Riserva Speciale Bitter
1 oz. Martini & Rossi Ambrato
1 oz. Blood Orange Juice
3 Dashes of Olive Bitters
Top with Perrier and Lambrusco, equal parts
Blood Orange Wheel, Green Olive, Single Rosemary Sprig Garnish
Method: Built and top with Lambrusco and Perrier.
Martini & Rossi Rosé Spritz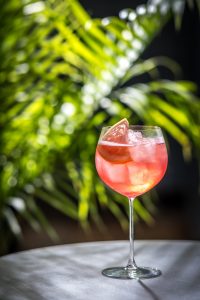 Ingredients:
1 oz Martini & Rossi Riserva Speciale Bitter
4 oz Martini & Rossi Sparkling Rosé
2 oz IZZE Grapefruit Soda                           
Ruby Grapefruit Slice Garnish
Method: Build directly in a large wine glass over cubed ice.     
Little Red Corvette
Created by Robert Campbell, Café Birdie Mixologist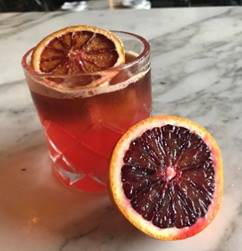 Ingredients:
1 oz Martini & Rossi Riserva Speciale Bitter
3/4 oz Fresh Blood Orange Juice (or Orange Juice)
3/4 Fresh Lemon
1/2 oz Peach Liqueur
Method: Shake and strain over rocks in Old Fashioned glass, float of Fernet on top. Garnish with candied Blood Orange Wheel.
The Martini & Rossi Negroni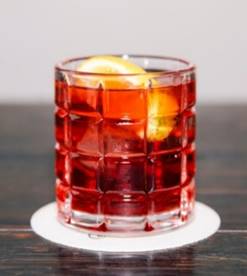 Inspired by the 1872 Martini & Rossi Bitter recipe, our master blenders have crafted a modern expression of the original which perfectly complements Riserva Speciale Vermouth di Torino to create today's ultimate Negroni.
Ingredients:
1 Part Martini & Rossi Riserva Speciale Bitter
1 Part Bombay Sapphire Gin
1 Part Martini & Rossi Riserva Speciale Rubino
Orange Wedge Garnish
Method: Add ice and an orange wedge.
Wrong Side of the Tracks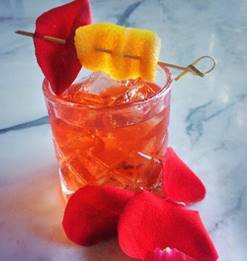 Created by Alex Barbatsis, Café Birdie Bar Manager
Ingredients:
1 oz Martini & Rossi Riserva Speciale Bitter
1 oz Navy Strength Gin
3/4 oz Rosé Vermouth
Method: Stir on the rocks in an Old-Fashioned glass, garnish with an orange peel and rose petals.
Blood Orange Mezza Blue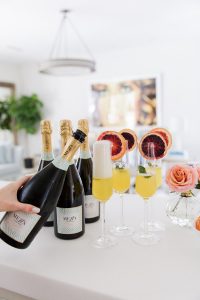 Created by Fashionable Hostesss
Photo: Credit Fashionable Hostess
Ingredients:
Juice of 1/2 a medium blood orange
Juice of 1/2 a lime
1 oz vodka
8 leaves mint
2 oz chilled ginger beer
Chilled MeZZa di Mezzacorona for topping
Method: In a glass, combine the blood orange juice, lime juice and vodka. Add the ginger beer and top with the Italian Glacial Bubbly MeZZa di Mezzacorona. Garnish with blood orange slices and fresh mint. Enjoy!
Lavender Lemonade Port Cocktail
Created by Christiann Koepke
Photo: Credit Christiann Koepke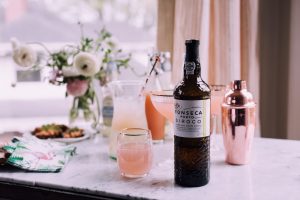 Ingredients:
1 Lemon
2 ½ oz. Fonseca Siroco Dry White Port
1 oz. Sparkling lemonade
1 ¼ oz. Lavender simple syrup
Edible flowers or fresh mint (optional garnish)
Lavender Simple Syrup
Makes 1 cup syrup
1 cup water
1 cup sugar

2 tablespoons dried lavender blossoms
Instructions:
Prepare simple syrup:
Combine water, sugar, and lavender blossoms in a small saucepan.

Bring to a boil, stirring until sugar dissolves. Simmer on low heat for 1 minute.

Remove from heat and let syrup steep, about 30 minutes.

Strain syrup through mesh strainer into jar. Let cool. Store in fridge for up to 2 weeks.
Method: Cut ½ lemon into wedges. Slice remaining half for garnish. In the bottom of a cocktail shaker, crush using muddler. Add Fonseca Siroco dry white port and simple syrup. Add ice and cover with cocktail topper. Shake well. Pour into glass. Garnish (optional).! Top off with lemonade. Garnish with lemon and/or mint.
Red Dawn
Created by Rag Trader in New York City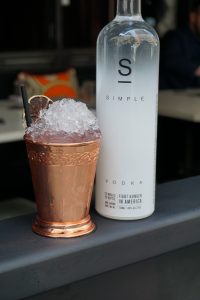 Ingredients:
2 oz. of Simple Vodka
¾ oz. of lime juice
½ oz. of pomegranate syrup
1 oz. of ginger syrup
3 dashes of bitters
Top with Lime Perrier
Method: Build the cocktail, shake with two ice cubes, pour over crushed ice, and garnish
Blueberry Ginger Mule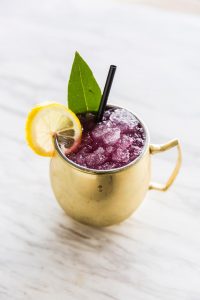 Ingredients:
1 oz Deep Eddy Straight Vodka
2 oz Blueberry cordial*
Goya Ginger Beer
Method: Combine all ingredients with in a copper mug filled with crushed ice
*Blueberry Cordial
1 lb. frozen blueberries
Zest and juice of 1 lemon and 1 orange
2 cups sugar
1 tsp vanilla
¼ cup white vinegar
Method: Combine all ingredients in a saucepan over medium heat until sugar is dissolved and blueberries burst. Cool and strain.
Signature Negroni, Sticks & Stones
Created by Underdog, 55 Stone Street, NYC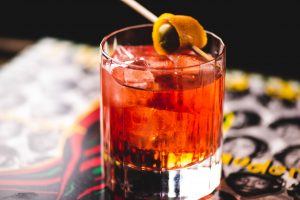 Ingredients:
Vermouth
Life of Brine (Underdog's special house-made brine mix)