Last year, I was fortunate to explore Romania on two separate occasions. My explorations allowed me to taste a vast diversity of wines that the country has to offer. When I returned home, the wine-related comments from friends and colleagues reminded me of just how damaged the rep is for Romanian wine.
Whilst there, my wine encounters proved the reputation is dated and unfounded, in fact, the more I drank the more I liked. It's for that reason I decided to write this article– to help pave the way for an updated perception on the misunderstood and in my view, greatly under-appreciated, old world wine-making country. So read on, learn about the country and discover some truly unique and special wines.
Geographically, Romania is divided into 7 wine regions. Hungary-influenced Banat and Crişana in the West. Dobrogea, which is the warmest and only coastal region, where the breeze from the Black Sea moderates the climate. Transilvania is a region of yet-unrealised potential; with an average altitude of 440m and enviable terrain, this is one to watch for crisp Whites. Otenia and Muntenia (and the town of Dealu Mare) are a haven for lovers of big Reds, nicely nestled in the foothills of the sizable Carpathians mountain range. Finally Romanian Moldova, of course in the east by the Moldova border, is home to over a third of the total vineyards in the country, famous mostly for Whites, some Sparkles and even some Brandy!
You'd be surprised to discover that wine production reportedly dates back over 6,000 years, which places it with Greece as the oldest wine making countries in the world. The famous Phylloxera swept and destroyed most European vineyards in the 1880's, and Romania was no different, with a vast majority of the re-planting completed with French vines. Although many interesting indigenous examples are still to be found (of which you'll see in a couple of paragraph's time), many were lost.
Further expansions in the 1960's under the Soviet Union, took Romanian wine to its modern day wine peak in the late 70's and 80's. The industry suffered from under-investment in the earlier 90's, as the economy spiralled following the overthrow of Ceausçescu. Returning nationalised land to rightful owners was a logistical nightmare and dormant or abandoned land was a common sight. In recent years the trade is seeing a resurgence, aided by financial security of inclusion in the EU, private investment and skilled winemakers honing their craft. People are rediscovering Romania, its potential, and the sheer uniqueness of the wine the country is creating, and its beginning to turn the heads of critics around the world.
Now I've covered the history and background, let's get to the important stuff, let's discover some truly wonderful Romanian wines that you too can get your hands on.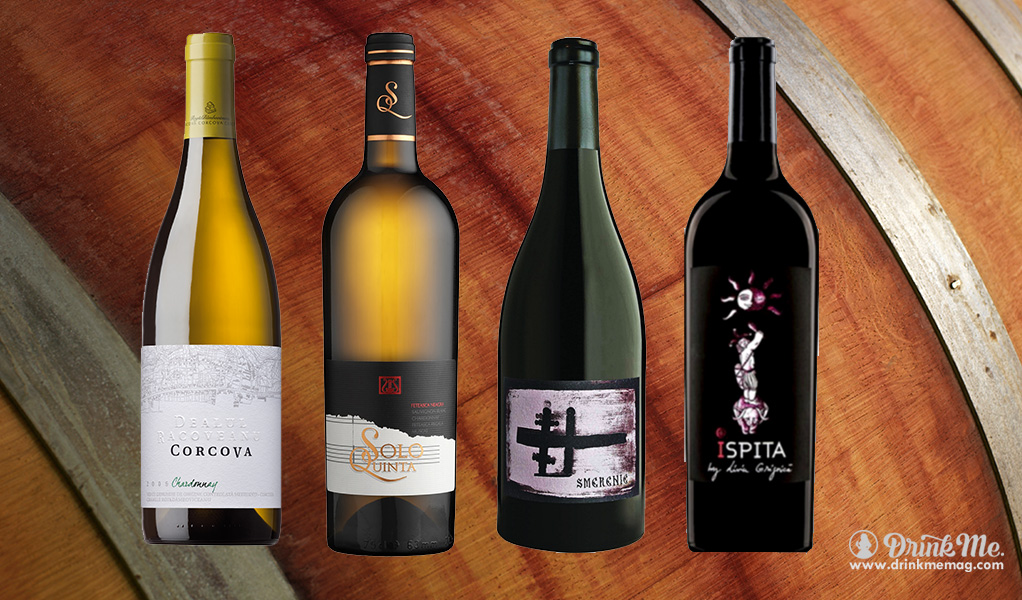 The Crama Oprisor Smerenie is Syrah/Shiraz-led with Pinot Noir and Dornfelder playing a supporting role. A deep, rich wine packing intense fruit, forest, spice and savoury notes. Rather Rhône-esque with it's savoury smoothness, but expressive in its own way. Black fruits, raspberry, mint, cedar were the clear notes for me. It eventually unfolds, leaving a lightly-spiced, full, layered mouthful.
The Corcova Reserve Chardonnay is full of grace, imparted somewhat by seeing new French oak for 7 months. The nose is full of nutty, oaky promise that the palate delivers on.It's exhuberant and gutsy. Something in between a classic Burgundy and an oaky Aussie offering.
White Blends are something Romania does very well. Lots of producers combine Sauvignon Blanc and Riesling; a curious combo showing the qualities of both grapes whilst merging into a variety of it's own. My favourite blend is the Cramele Recas Solo Quinta, which combines four white grapes (Chardonnay, Sauvignon Blanc, Muscat, Feteascǎ Regalǎ) and one red grape (Feteascǎ Neagra) to create a beguiling drop that will delight palate and keep you guessing. The grapes change with each vintage, but always four White and one Red.
I even drank a mystery wine. The Ispita Red (translation: temptation) is produced in a shroud of secrecy. No details are shared about which grapes are used or how it's made, and says it should be enjoyed without pretence or expectation. It's astringent in style offering black forest gateau, dried fruits and pecan nuts. A pungent lasting finishing. The 14% ABV is well-integrated, as is the smoky nature that compliments the other flavours.
And those international varieties are just the start of the exploration. Look to the indigenous offerings are you can expect wines with unique character. The most common are the widely-planted Feteascǎ Regalǎ (White), Feteascǎ Neagra (Red) and Feteascǎ Albǎ (White hybrid of the aforementioned two). There's some nice sweet wines made from Cramposie Selectionata. Red wines made from Cadarca and Novac are worth a taste for a unique experience. Also look out for other tongue twisters such as Tămâioasă Românescă and Grasă Românescă!
Don't take my word for it. Although she remains a net importer, Romanian exports are staging a comeback and good examples are becoming more accessible, at reasonable price points. But if you really want to immerse yourself, then capitalise on the generous exchange rates (Romanian isn't yet using the Euro) and pay a visit. The restaurant and bar scene in Bucharest will challenge your preconceptions, and there's plenty to explore with vineyard tours around the country. Give us a shout if you'd like some suggestions for where to stay/eat/drink.