In our series, Made in America, we look at various alcohol brands that have become, or are becoming, icons in their category. How relevant is it to be an American brand in any consumer category and what does it matter? Our editorial team loves alcohol products, from all countries and in all shapes, colors and sizes. We enjoy learning about new applications and ways to elevate our readers' palates. That includes American-made products which offer levels of contribution that imported brands just can't.
Manufacturing in the USA means jobs for Americans, and who could be against that? We salute the brands that continue to create employment in an economy where jobs come and go, and nothing seems stable. Traditionally, the alcohol manufacturing industry tends to create jobs that people stay in, or grow in, for decades, and we applaud that even more. Additionally, manufacture in one industry means supply from another, and never has this been truer than in the alcohol space. An American whiskey means barley, corn, rye, water and everything else sourced from America. The same goes for vodka, wine, beer and gin. In alcohol, American really means American as opposed to electronic parts sourced from China and merely assembled in Ohio. According to the National Association for Manufacturers, for every $1.00 spent in manufacturing, another $1.81 is added to the economy.
Overall, it's better for the environment when we make agricultural products domestically, versus importing them (excepting some categories like livestock). Additionally, as products grow, so do investment-opportunities, some of which come from inside the country and some from without — both are good for our economy's cycle.
Lastly, the luxury goods business is based on branding. The more brands along the Bourbon Trail that develop their identities, or wines from Lodi that score high ratings, the stronger that part of the alcohol industry grows. With better wines continuing to attract consumers to the central coast of California, the stronger the identity of that region, the wines that come from there and, ultimately, another sector of the economy booms. Finally, these brands beat out the imported competition, attract tourists and visitors (further bolstering that region's economic growth), and ultimately lead to more sales, more jobs and more reasons to buy American.
Truly, the benefits of buying American Made are never-ending. To put it in perspective, we talked to Proprietor and Distiller of Garrison Brothers Distillery, Dan Garrison, who explained why being part of an American-made brand really matters.
Dan Garrison set out to do the Lord's work by creating a truly authentic American whiskey that would represent a higher art form.
In 2004, Dan walked away from a financially rewarding but volatile career in software marketing to make whiskey. A lifetime lover of straight bourbon, he set out to explore, and improve, the category. After numerous trips to the birthplace of bourbon (to learn the craft from the best in the world), he set up shop on his small farm and ranch in the Hill Country.
"At the time, I had just tasted George T. Stagg from Buffalo Trace for the very first time," Dan told us. "I thought it was the most amazing drink I had ever consumed. Became my personal mission to make a bourbon that was superior to Stagg. I wanted to make the highest quality, finest tasting bourbon in the world. Wanted to do everything by hand."
Borrowing money from family and his reluctant but curious bourbon-drinking friends, Dan built a small "experimental barn" and began tinkering with equipment, tanks, pumps, plumbing, steam, barrels, grain and yeast. In November 2007, the entrepreneur invested in an antique pot still named The Copper Cowgirl that had been originally built in 1972 for Wild Turkey.
"Good bourbon can increase one's faith in mankind, and God." — Dan Garrison.
Seven months later he uncorked one of the test recipe bourbon barrels he'd been working on. After aging in oak barrels in the hot Texas sun for just months, the bourbon was outstanding. Dan was more motivated than ever and began to beg, borrow and steal to build a bigger distillery.
Today Garrison Brothers Texas Straight Bourbon Whiskey has become a sought-after collectors' item. Five vintages have been released, each one selling out, in a matter of days. When a new release is announced, bourbon drinkers set out on road-trips to the Hill Country just to get their hands on a bottle. Some bars in Austin and Fredericksburg are selling more Garrison Brothers (at $12 to $20 a glass) than Jack Daniels. The family farm and distillery is now a bourbon Mecca attracting hundreds of visitors a week.
Garrison Brothers Texas Straight Bourbon Whiskey is authentically made by hand, from corn to cork, at the little distillery in Hye. The brand uses expensive organic corn from the Texas Panhandle and when the rain gods cooperate, Dan grows his own wheat.
"We are real people making what we believe is a higher form of art. We are doing the Lord's work. Good bourbon can improve the world. Good bourbon can increase one's faith in mankind, and God. Good bourbon can create enduring, meaningful friendships. Good bourbon can create legendary stories. We are here to show the world how," Dan explains.
Bottling at Garrison Brothers is an adventure with volunteer bottlers driving in from all over Texas to lend a hand. The distillery releases more bourbon every year but demand in Central Texas is so strong that Garrison has been unable to expand distribution to other regions within the state. It just keeps selling out locally.
"My favorite thing [about being an American] is that bourbon is American. Bourbon is protected. Bourbon can only be made in the United States," the American bourbon master concludes. The brand is currently available in 26 states and six foreign countries. You can find it here.
Price: $80 – $90 (depending on retailer)
Subtle nose of golden delicious apple-meat and honey. Sweet floral verbena, fresh cut grass, saddle leather, cinnamon and honey. Springtime flavors of honeysuckle and orange candy, yellow pound cake, baking spices, lemon gumdrops, and sugar cookies. Long and engrossing finish. Complex. Smoky county fair caramel apple sprinkled with walnuts and cinnamon.
---
Price: $110 – $125 (depending on retailer)
Each barrel has its own personality. By aging our barrels in the scorching Texas sun, the bourbon cycles through the wood's pores and crevices, extracting all of the flavor possible and yielding a distinct color and a true tour de force of flavor.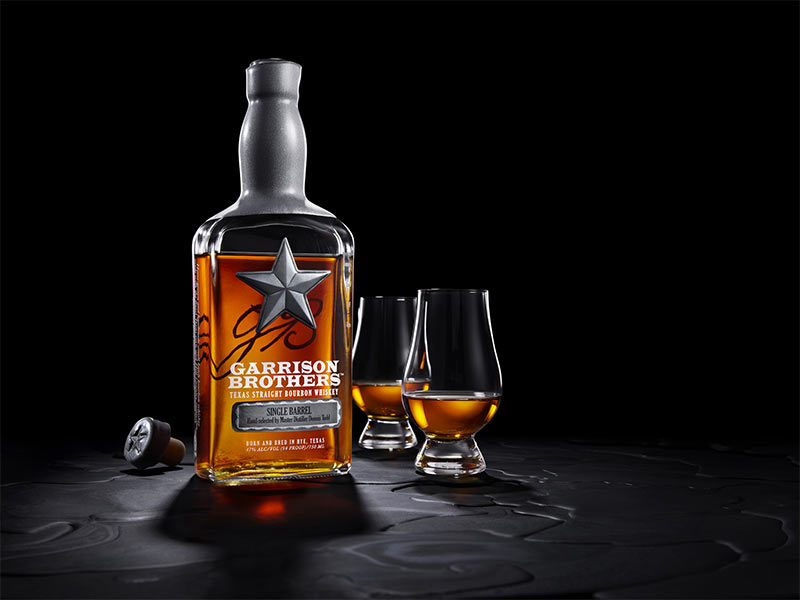 ---
Price: $160 – $180 (depending on retailer)
Bourbon candy: frozen fudgesicle bars, amaretto coffee, sticky buns, and pecan brittle.
Thick, white chocolate syrup.
"About 40 miles south of Pecos, Texas, there's a little swimming hole called Balmorhea where I took my kids when they were young. The park's name comes from four men's surnames: E.D. Balcom, H.R. Morrow, John, and Joe Rhea. These men formed an irrigation company in the area in the early 20th century." — Dan Garrison
---
Price: $200 – $250 (depending on retailer)
Bouquet of lavender, Manhattan street-cart roasted walnuts, pipe tobacco and Arabica coffee. Powerful rush of raw honeycomb, dried cherries, toffee, warm molasses, cooked apricots, and burnt raisins. Figs and ganache. Burnt marshmallows and a Milk Dud finish. A pleasing hiss like a snake's rattle as it settles in and numbs the tongue.