Think white wine is confined to summer sipping? Cooper & Thief Cellarmasters is here to change the game. Aged in ex-tequila barrels, 2016 Cooper & Thief Sauvignon Blanc is a crowd-pleasing, cocktail-friendly choice that transcends seasons when served in a chic ceramic set.
Always experimenting, Cooper & Thief tapped revered mixologist Elliott Clark (@apartment_bartender) to create two refreshing wine cocktails featuring the Sauvignon Blanc. Designed to please oenophiles and spirits enthusiasts alike, the White Wine Paloma and Pine & Wine deliciously complement Cooper & Thief's classic citrus and spice notes that express like a fine blue agave tequila.
But to truly carry white wine over the summer finish line, standout drinkware is a must. Brooklyn-based Ceramicist Josephine Heilpern of Recreation Center(@josephinenoel) teamed up with Cooper & Thief to craft a custom ceramic drinking set. A twist on the traditional Mexican Talavera-style "Tequilero" serving ceramics, the Cooper & Thief x Recreation Center Carafe Set is handmade to enjoy white wine anytime. $175, RecreationCenterShop.com.
Cooper & Thief White Wine Paloma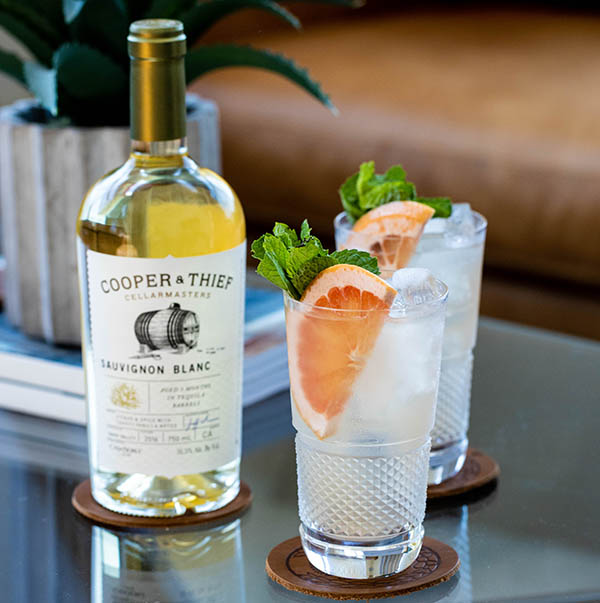 2 oz Cooper & Thief Sauvignon Blanc aged in Tequila barrels
1 oz Blanco Tequila
1 oz Fresh Grapefruit Juice
½ oz Fresh Lime Juice ½
¼ oz agave nectar
Soda Water
Build:
In a cocktail shaker, combine all ingredients except for the soda water. Shake with ice to chill, and strain into a Collins Glass over ice. Top with soda water, and garnish with a slice of grapefruit and sprig of mint.
---
Pine & Wine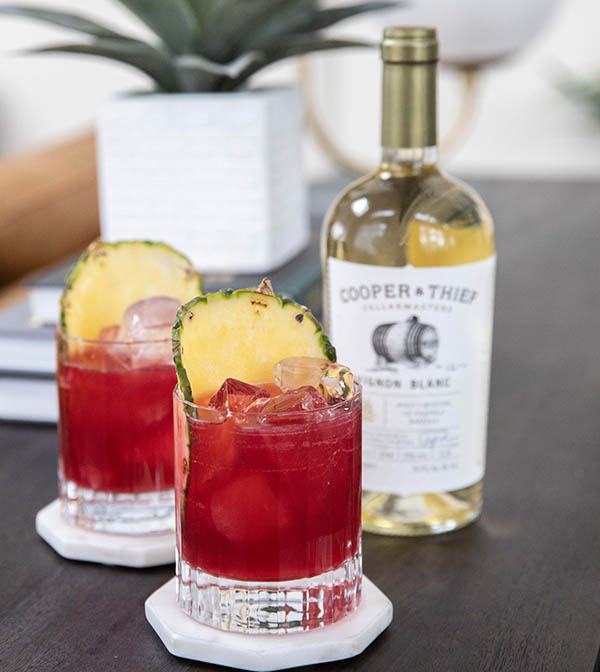 1 oz Cooper & Thief Sauvignon Blanc aged in Tequila barrels
1 ½ oz Gin
½ oz Blueberry Syrup
½ oz Fresh Lime Juice
1 oz Fresh Pineapple Juice
Build:
Combine all ingredients into a cocktail shaker and fill with ice. Shake to chill the cocktail, and double strain into a rocks glass over ice. Garnish with a pineapple wedge.