If OZV is the ABC of Lodi Zinfandel, then these three letters which represent Old Zinfandel Vine, are pretty much the starting and ending point, for all things Zin produced in the Lodi region. The pioneering brand comes from a fifth-generation family grape-growers under the Oak Ridge umbrella.
For those looking to learn a bit more about Zins, this wine is for you. It will teach what a Zin should be, and serves not only as a frankly underpriced mouthwatering wine, but also and more importantly, as a solid point of reference to which all Zins should aspire.
OZV usually retails for $14.00 (or sometimes $11.99 if you can get it during an offer). Although its story is steeped in tradition and, well, old vines, it's actually most popular for the cult following it has garnered as an cutting-edge name in Zin. Its label pretty much reflects its attitude: slightly edgy, contemporary, unique and a bit of a challenge to replicate.
Those three letters are apparently nonchalantly swept onto the label as if a calligrapher who happened to pass by decided to swiftly pen the logo. And as we know, all things that look like they happened auspiciously naturally are carefully curated to do exactly that.
Here are five things this avant-garde, extrovert brand can teach you about Zin.
1. The 21/14 Rule:
On-Premise locations have to remember to check for ID to ensure drinking customers are 21 or older. Customers need to check that their Zin around 14% alcohol or slightly over. There's a good reason for this: a lower volume Zin translates into a softer, more approachable and easier-to-drink wine. Who wants their senses attacked by a glass of Zin? Nobody, so keep the alcohol volume at, or slightly above, 14%.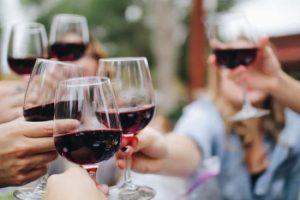 2. The Only Source of Knowledge is Experience:
Sounds like some adage my Irish mother tells me when I phone her in Dublin every Sunday, but like her, there is wisdom in it. When creating an unconventional approach to winemaking….guess what? It helps that the wine is made under the umbrella of Rudy Maggio, who has over five generations of family vineyard heritage in his name. Created by winemaker, Noel Basso, OZV is a very unique label doing its own thing, but it hasn't gone unnoticed that it bolted from the prestigious Oak Ridge Winery stable.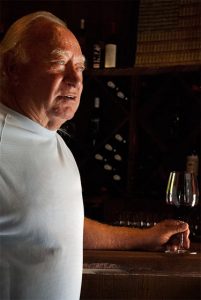 3. It's Got A Kick-Ass Label:
We don't know who Banksy-ed this recently overhauled label but we approve. You can take this lovely anywhere. It has that perfect balance of peculiar uniqueness, that's not trying too hard, but is still bound to be the most striking bottle on the table. Someone expressed attitude all of this bottle and we kinda like it.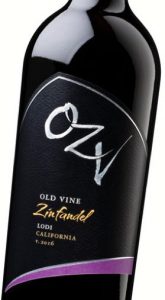 4. Room To Grow:
There's a lot of room to move within the OZV portfolio.

While in Croatia last year I learned that Zinfandel and Primitivo are, while incredibly similar, only siblings. They stem from a Croatian grape called Crljenak.

OZV's Rosé

is, indeed, a Primitivo and has all that wonderful rose petal, strawberry, cranberry, pink grapefruit notes we love to find in rosés. And for only $15 you can trade your way up the Zin-Primitivo ladder without feeling any pinch in the pocket.

Make a quick order here

.

The

2016 OZV Red Blend Zin

is this writer's favorite for value. This thoroughly over-delivers on every level. Delicious jammy berries culminate in a perfectly controlled and balanced wine. It's just crazy to me that this bottle is only $15, but that's the point of OZV…it will teach you what you need to know about Lodi Zins without punishing your bank balance.

Order it directly from the winery here.

Celebrate your graduation in Zin with

OZV's 2017 Zinfandel 3 Litre

bottle made exclusively from grapes up-to 50 years old. This is a "robust" wine, and not for the faint-hearted. But its magical winemaker, Noel Basso contains this wild-child and ties it up with a soft tannins and puts a round-mouthfeel bow on top so you can taste the OZV exuberant soul in a polished bottle of jammy berries and expert winemaking.

Treat yourself to this oversized bottle

.

5. All Access
OZV is readily available around the country, so if you're traveling, or just sharing your experience with OZV on Instragram, you and your friends can find it anywhere. None of that stuffy allocation nonsense here. That's not OZV's style. Here are some typical locales you can find OZV wines, and remember trade-up within the portfolio for the full experience of Lodi Zin. Buy it at Total Wine, BevMo, Costco, Safeway and Trader Joe's. Also, you can use the Oak Ridge Wine Finder here.
Tasting Your OZV Wines:
Color: Lodi Zins are lighter in color than Cabernet Sauvignon and Merlot, but can be darker than Pinot Noir or around the same opacity.

Taste: The high percentage in Alcohol Beverage Volume of Zinfandels can make them overly bold. That's why we recommend

OZV

which stays around, or slightly above 14%, so the multiple layers of flavor can come through without fighting each other for your attention.

You'll notice berry, vanilla, and caramel in

OZV's 2016 Zinfandel

 and

2016 OZV Red Blend Zin

.
Enjoy the amazing jammy berries that won't overwhelm your palate while treating yourself to the OZV's 2017 Zinfandel 3 Litre.