Ever wanted to become a wine and spirits expert? You're not alone. Global wine and spirits education is on the rise. For insight on this trend we turned to Wine & Spirit Education Trust (WSET), the largest provider of qualifications in the field of wines and spirits; WSET has helped industry professionals and enthusiasts elevate their knowledge in 66 countries and 19 languages. WSET participation in the U.S. grew 26% last year, making this one of the fastest tickets to wine and spirits education—one that involves plenty of tasting, too. 
What do you need to get started?
First, locate a WSET program that works for you. If you don't live close enough to one of the many course providers in the country, you can also opt for an online course. Next, select the level that works for you. Currently WSET offers eight qualifications, from 1-day beginner courses through a specialist level 18-month diploma. Led by engaging experts that are certified by the WSET, classroom experiences are the perfect forum to soak up knowledge.  
Can WSET help me with a wine and spirits career?
All professions demand expertise and knowledge for advancement. Studies show that there is a direct correlation between better training and enhanced job opportunities, and in turn between product knowledge and sales impact. A WSET qualification will provide skills and expertise to build upon and apply on a professional and personal level.
What about the tasting part?
WSET pioneered the Systematic Approach to Tasting (SAT), a disciplined approach to training our palates that everyone from beginners to the world's foremost experts have mastered. The WSET's tasting system builds an individual's skills progressively through each level of study.
The WSET is a portal to wine and spirit education that welcomes all. Now it's up to you!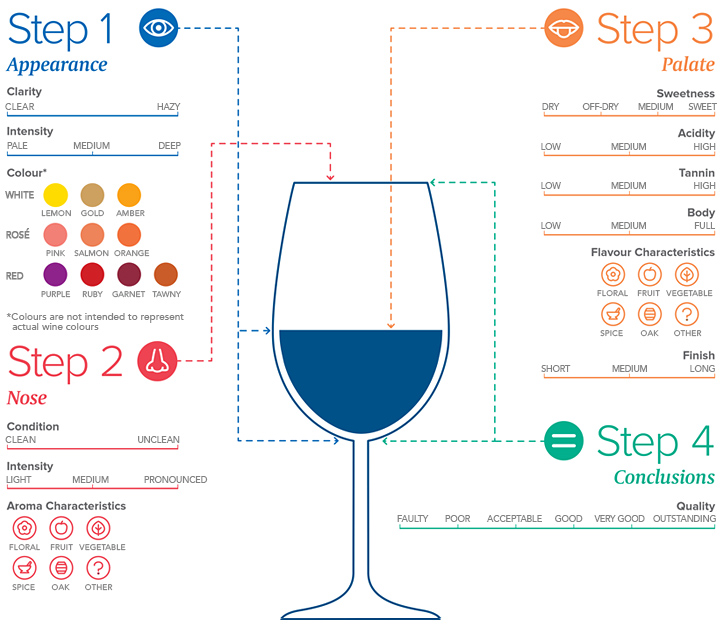 WSET © Systematic Approach to Tasting