If you thought having the talk was awkward, try making condoms for a living like the family team behind the Wine Condoms.
Wine Condoms are more than the ultimate protection for one's Pinot–it's a family-run enterprise.
The edgy bottle stopper with the tongue-in-cheek tagline "Screw the Cork, Use a Condom," is the creation of millennial entrepreneur Mitch Strahan and his 51-year-old mom Laura Bartlett.
"The cork was missing so my neighbor sent me home with a half-drunk bottle of wine covered in Saran Wrap and rubber bands."  My son and I joked "Looks like a condom, a Wine Condom! – a few months later he decided he'd actually try to make one."
A successful Kickstarter notwithstanding, Wine Condoms still needed additional start-up capital to take it further, so Bartlett, a  single mom suffering from a recent corporate layoff, sold her small, modest home and moved into an apartment in order to fully-bootstrap the vision.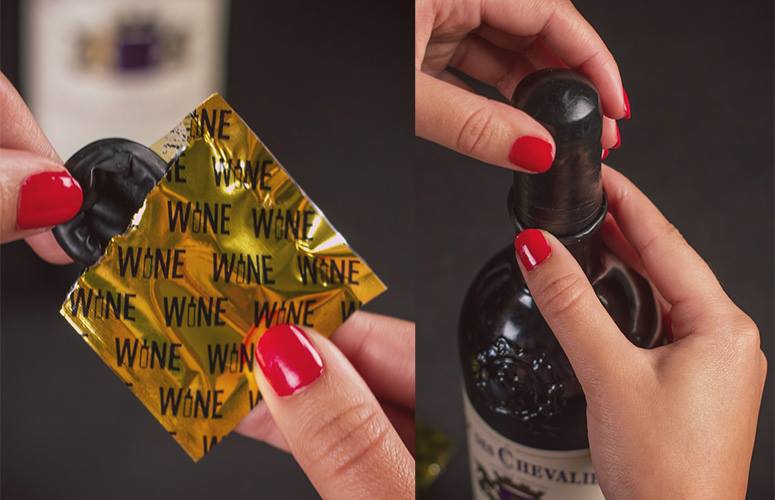 How  Wine Condoms amassed over one million dollars in sales:
Spill-proof: The safest, most reliable way to transport uncorked wine bottles… '99.9% effective preventing unplanned spillage.'

Low-Profile: Unlike corks or decorative stoppers,

Wine Condoms

seals flush with the rim for easier fridge shelf storage.

Portable: Conveniently stowed in a pocket or wallet for 'on-the-go protection' at your next party or BYOB.

Reusable: Can be used more than once in case Chardon-HEY – you get lucky!

Food Safe: Wine Condoms are made from 100% food grade latex rubber.

Fun:Unlike traditional condoms,

Wine Condoms

actually encourages 'Ugly Laughs" during use!
The Wine Condom has been in such high demand since its launch that some people have taken to scalping them, with boxes going for upwards of $100.
Pick up the real deal for only $15 (each box includes 6 tuxedo black wine bottle stoppers) at www.winecondoms.com, Amazon, and Paper Source stores nationwide. Wine Condoms make great gifts for Christmas, birthdays, anniversaries, bridal showers, White Elephant Parties, and yes, most definitely Bosses' Day, too!