If "punk rock Waterford crystal" sounds like an oxymoron you'd have a hard time formulating into your image of the iconic brand eschewed in tradition, take a look at designer Jo Sampson's new Rebel Collection designed for Waterford. Glowing with velvety, smoky shades of bronze, mauve, gold, and vibrant purple and boldly formed in sleek, contemporary shapes, the collection's barware is a striking way to serve your signature cocktails, wine, and champagne.
The edgy, utilitarian style of the decanters labeled in bronzed, military-style dog tags form a striking dichotomy when paired with the graceful curving lines of the elegant glassware. Unexpected feminine touches like a pair of studded gold earrings designed to match studded shot glasses are appreciated by those with an eye for detail—also a good way to get in a festive mood.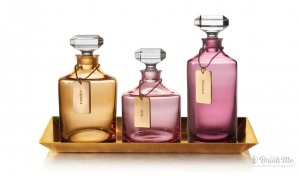 Sampson, the creative force behind the Rebel Collection, has been a leader in design for nearly 20 years, honing her craft in agencies in London and Milan. In the Rebel Collection Sampson uses the iconic punk stud as her source of inspiration, and her golden metal renditions of this recognizable symbol of nonconformity meld in surprisingly beautiful ways with sparkling crystal. The Rebel Collection is a beautiful rebellion.