Former UC Davis students, Richard Bruno and Chris Condos, held onto their collegiate friendship and collaborated in 1997 to establish the independently owned and operated Vinum Cellars. Their mutual passion for Chenin Blanc and other more obscure grape varietals has lead them on a path to wine greatness. Bruno and Condos' journey, however, didn't simply begin with Vinum Cellars. Post-graduation, Condos secured an Enologist position with Pine Ridge, while Bruno became the distiller at Bonny Doon Vineyard. With their new knowledge, experience, and shared similarities, the pair took to their first creation: White Elephant. One bottle turned into a whole operation experimenting with over 14 grape varietals from El Dorado and San Benito Counties as well as various locations around Napa Valley.
Given the duo's determination to delve into as many grape varietals as possible, Vinum Cellars needed the help of numerous vineyards. Vinum Cellars celebrates their long-term contracts with appellations in Clarksburg, El Dorado County, and the Napa Valley:
Clarksburg: North Sacramento Delta near the Sierra Mountains giving way to clay loam soils and cool afternoon breezes that moderate toasty daytime temperatures. Chenin Blanc grows best by exploiting canopy sunlight and letting the natural cooling trend do its thing to preserve acidity. Their flagship blend, White Elephant is derived from this blend and was just rated 90 points by both the Wine Spectator and Wine Enthusiast Magazines.
El Dorado County: Volcanic red soils with exceptional drainage and low yields that produces high elevation mountain fruit. Their Cabernet Franc wine "The Scrapper" is a consistently highly rated 90+ point wine.
Napa Valley near Atlas Peak: On the eastside of the Napa Valley the vineyard secured is about 100 yards from the Atlas Peak sub-appellation that is infamous for producing world class Cabernet Sauvignon. The low yielding hillside vineyard produces fruit with intense flavor packed red fruit and powerful tannins. The current release 2013 was rated 92 points by acclaimed wine critic Robert Parker, Jr. who referred to this wine as "a steal".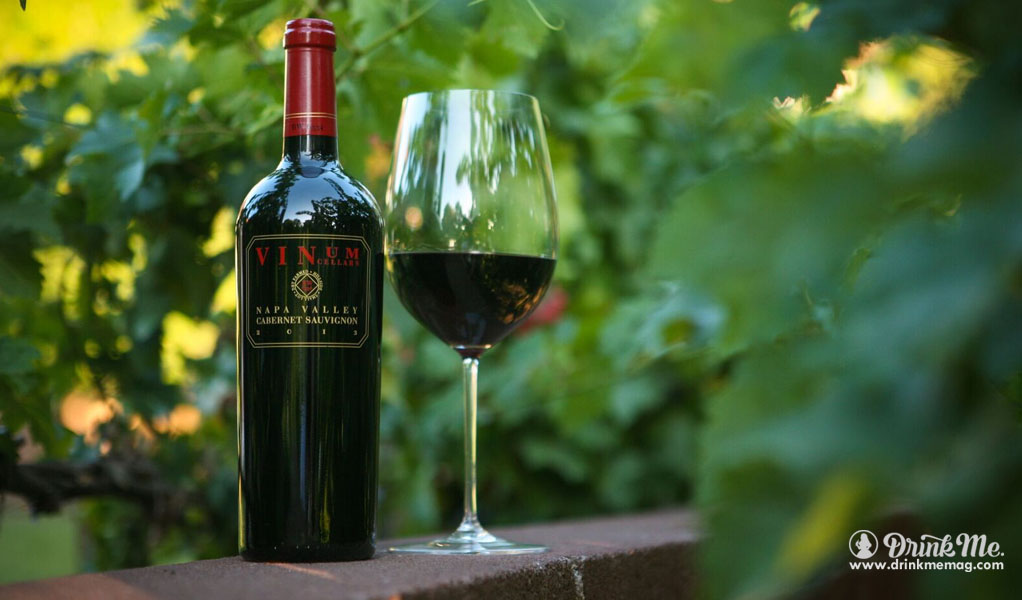 Vinum Cellars' success is due to their ability to find and work with these wonderful grape growers to develop the best fruit possible for that specific vineyard while keeping sustainable farming in mind. All grapes are carefully supervised while they mature and are picked at optimal ripeness. The fruit then undergoes gentle processing before entering the laboratory of Bruno and Condos. Maybe laboratory is a bit extreme, but they are rather experimental with yeast strains and use different cultures for each variety. Whites are barrel fermented leisurely and aged Sur Lie in French Oak barrels with the belief that older French Oak allows the flavors to fully express themselves. Reds, on the other hand, are placed in a small open top fermenters to maximize skin contact while also using hand punch downs and extended maceration before pressing the fruit.
The resulting small lot, handcrafted wines are nothing short of the Vinum philosophy. Though biased towards their beloved Chenin Blanc, Bruno and Condos supply a rounded variety of reds and whites. Among their loot, you'll find Chenin Blanc (of course), Cabernet Sauvignon, innovative and insightful blends, sparkling splendors, Chardonnay, Pinot Noir, and many other creative choices. They provide to consumers of all interests and wants within the wine world. Their higher end vintages will make collectors weak in the knees, while palate adventurers can set their sights on bold flavor fusions.
For those who want a consistent supply of Vinum Cellars new creations, Bruno and Condos offer a Wine Club. By joining, you'll save 10%-15% on retail prices, immediate access and priority on new releases and rare vintages, and receive direct shipment of six or twelve bottles to your location twice per year. Choose from six club offers and get your drink on.
Between the history, the philosophy, and the creativity that Vinum Cellars has to offer, it'll be difficult to turn down a bottle. Take an exploratory gander into the expanse of Bruno and Condos' wines to find your next favorite flavor rich varietal.