Situated along the white sands of the Riviera Maya in Playa Del Carmen sits a luxury resort fit for kings and queens. The Viceroy Riviera Maya Luxury Resort is adults-only and nestled right into the surrounding tropical forests. With their full service spa, award winning restaurant and lounge, prime beachfront location, and exquisite amenities, once you arrive you'll never want to leave.
The accommodations are superb. Select from a variety of villas to fit your dreams and your budget. In total, 41 private villas offer completely private patios and plunge pools, outdoor showers, bedding and furniture with your complete relaxation in mind, architecture echoing the jungle environment, and a view of the ocean or forest.
Viceroy Riviera Maya understands that retreats away should be both adventurous and rejuvenating. Whether you want to soak up some rays on the beach or venture to the nearby cities and ruins, there's enough to please each guest. Within the resort itself, splurge at the spa or get in some exercise at the yoga and fitness center. When the sun dips below the water, find yourself at the Library Lounge or at one of two unforgettable dining experiences.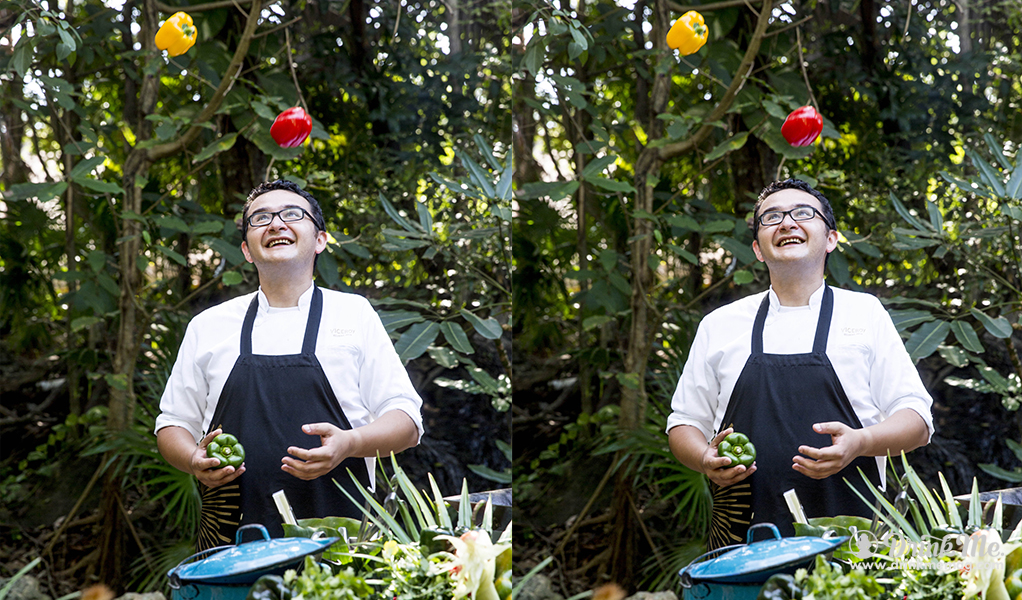 You know your palate will be in good hands with Viceroy Riviera Maya's newest staff addition. The announcement came earlier this summer that Carlos Zamora Larios would be appointed to Executive Chef. With responsibility over the resort's restaurants, bars, and catering, Chef Zamora is there to serve and please guests.
Originally from Mexico City, Chef Zamora is a graduate of the capital's Ambrosia Culinary Center and brings 15 years of experience and wisdom to Viceroy Riviera Maya. Much of his culinary past is within some of the leading hotels and restaurants in Cancun, Puerto Vallarta, Veracruz, and San Miguel de Allende. At his most former employer, Chef Zamora acted as the Chef de Cuisine of Moxi, the acclaimed restaurant run by well-regarded Mexican chef Enrique Olvera. He's more than qualified to take the culinary reins.
Now with more responsibility, Chef Zamora is looking forward to bringing his skills to the Viceroy Riviera Maya's current setup, while also preparing specialty themed weekly dinners and catering food for weddings and banquets.
So, if you weren't already sold on a stay at Viceroy Riviera Maya simply because of its amenities and breathtaking scenery, now you know even the food will be spectacular. You definitely don't want to miss out on experiencing Chef Zamora's creations.