'Tis the season for a daily celebration of wines from famed viticultural regions around the world as you countdown to Christmas Eve. We've done the hard work for you, and assembled a definitive list of the best and brightest wine Advent calendars that will make each day a festive joy. Ho Ho Ho, cheers and Merry Christmas. 
Wine Advent-ure | Costco | The Best Overall Pick for Both Quality & Value
The 2021 advent wine "Advent-ure" starts, of course, with Costco as they deliver the grandest wine advent calendar of this Christmas season. Costco is once again offering their famous Wine Advent-ure calendar – chock full of unique and interesting selections, hand-picked from heralded appellations, both new and old world, and from diverse places such as Argentina, Bulgaria, France, Greece, Hungary, Italy, Moldova, Portugal, South Africa and Spain. 
Each Wine Advent-ure contains 24 half-bottles (375ml each). You get more wine in your glass and an adventurous tasting opportunity with rare and exotic wines from "off the beaten path" regions like Bulgaria, Greece, Hungary and Moldova. You will definitely discover new wines that you have never tasted before. Check Costco online first, but part of the fun is in the hunt, so in-store may be the best bet to start your Wine Advent-ure.
Price: $99.99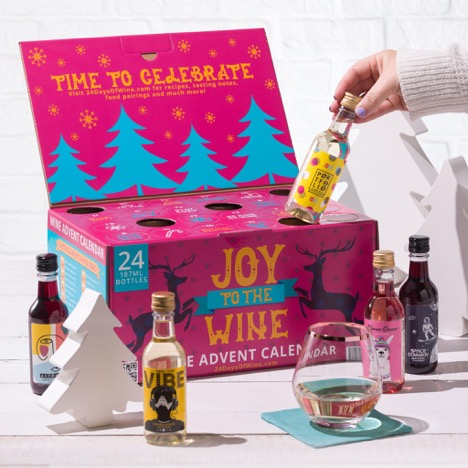 Joy to the Wine | Albertsons | The Best Pick For Foodies & Home Chefs
To paraphrase a famous wine quote, "it takes a lot of great wine to be a great chef," and the Joy to the Wine Wine Advent calendar is the logical starting point for aspiring chefs. Paired with the included digital Joy to the Wine Recipe Book, this calendar features 24 classic seasonal meals that team up perfectly with the 24 x 187ml size curated selections of California and Washington's finest varietals, including picks from Columbia Valley, Lodi, and Sonoma. This vintner mix is sure to please even the Gordon Ramsays in the crowd. Available at the Albertsons Companies family of stores throughout the US. Get one before they are gone since these tend to sell out quickly.
Price: $59.99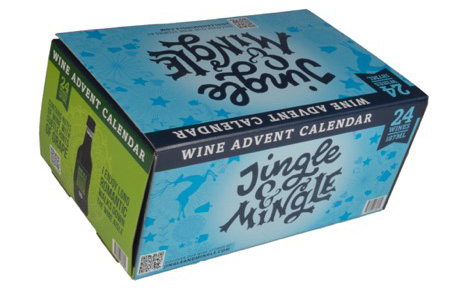 Jingle & Mingle | Target | Best Pick for Fun
It's ok to say Tar-jay, especially when they've upped their wine game to new levels including this year's soon to be hit, the Jingle & Mingle Wine Advent calendar. In addition to a 24-day wine sampler, Target is also offering two 5-day calendars this year: Jingle & Mingle 5 Days of Cabernet and Jingle & Mingle 5 Days of Rosé. All the wines for all three offerings are sourced from premium wine regions in California and Washington. Target's take on these seasonal wine multi-packs offers some whimsy and humorous spice in each glass, plus fun online videos to boot.  The focus here is on enjoying the entire experience, not on being a wine snob. Leave it to Target, your Christmas headquarters, for an absolutely fun and playful daily glass of vino.
Price: $59.99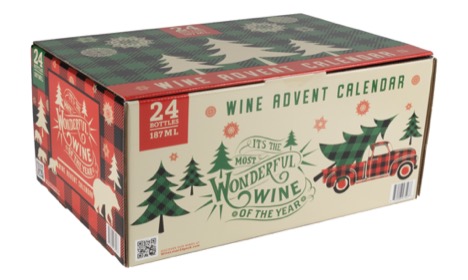 It's the Most Wonderful Wine of the Year | Total Wine & More | In-store & Online
If you're looking for class and sophistication as you open your daily advent vino, the It's the Most Wonderful Wine of the Year calendar, available in-store and online at Total Wine & More, is sure to deliver. Featuring top-notch selections of Cabernet Sauvignon, Petite Syrah, luscious red and white blends and and a host of other great picks.  The accompanying website teams up each selection with delicious food pairings. These daily wine selections will be the highlight of your day.
Price: $79.99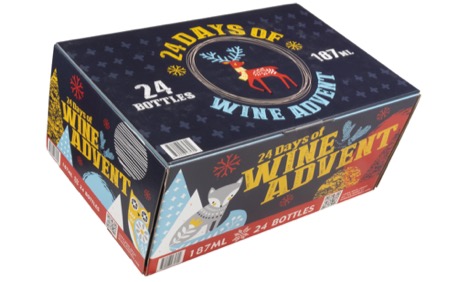 24 Days of Wine Advent | Online Only at Wine Insiders
Last but not least, 24 Days of Wine Advent is curated by the pros at Wine Insiders. They have selected some of their best picks in a top-notch calendar. Visit the product's website to learn more about each wine's unique style, growing conditions and tasting notes to get a detail-oriented education. Even sophisticated wine drinkers will be sure to learn a thing or two. 
Price: $79.99