By Michael Cervin
Everyone in the wine world knows Riedel – the glassmaker who changed wine appreciation by creating stemware specifically suited to an individual wines' characteristics. But what few people ever see is the process of their hand blown glasses. I recently visited the Riedel Factory in Kufstein, Austria for a firsthand experience.
Riedel produces 50 million glasses annually but the majority of their wine glasses and decanters are machine-made in Germany, where labor is cheaper than in Austria. However, their high-end Sommelier Series, first launched in 1973, is the only stemware that is made by hand at their factory in the small unassuming village of Kufstein, 50 miles outside of Innsbruck. The Riedel family has been in the glass business since 1756 in Bohemia (now the Czech Republic) and prior to World War II there were five factories operating in Poland with some 3,000 workers. Instead of wine glasses they were known for decorative art pieces, vases, and dishware. The war took a toll on the Riedel family – they were forced out of Poland – and Claus Riedel moved the fragile operation to Kufstein in 1955 in hopes of starting anew. Their factory began production in 1958 of delicate wine glasses and, perhaps ironically, parts of the current warehouse were once used by the Germans to store Panzer tanks during WW II.
Rie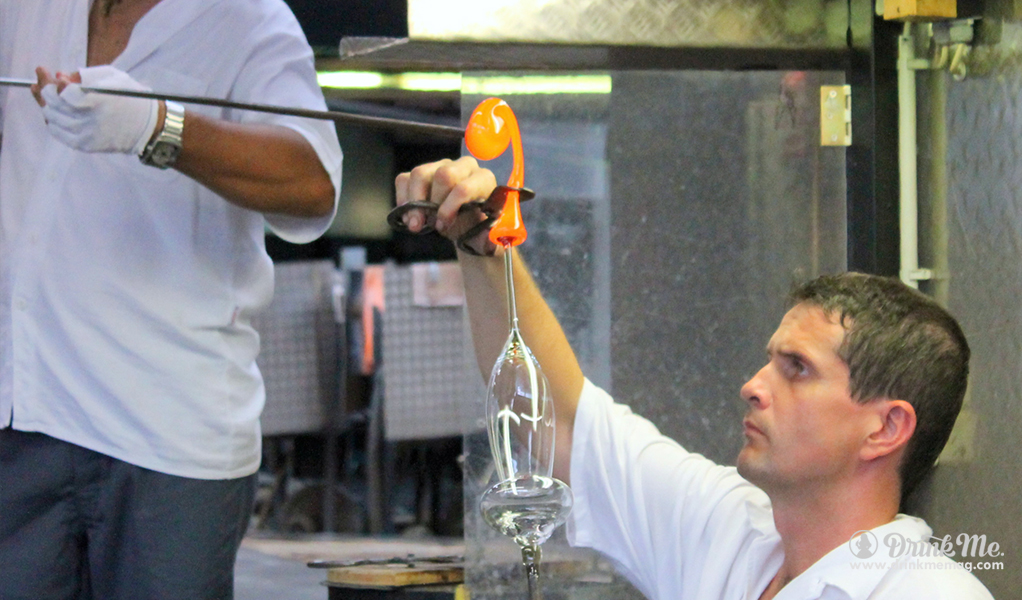 The decorative art glass that Riedel produced were accouterments few could afford after the war. Therefore Claus changed the company's direction and laid the groundwork for stemware, which was functional as well as beautiful. In 1961, a revolutionary concept was introduced when the Riedel catalogue featured the first line of wine glasses created in different sizes and shapes. Before this, conventional stemware used a basic bowl shape, with varying, but limited, sizes. The Riedel concept is that how a wine spills from the glass onto your tongue will alter your perception of the wine. "We're dealing with physics, it's not hocus pocus," Georg Riedel, 11th generation family member tells me. Riedel goes by the long held though somewhat controversial belief that there are various zones on the human tongue which can detect basic flavors – sweet, salty, bitter, and sour, though some add umami as a fifth zone. The delivery of a wines "message," meaning its bouquet and taste, depend on the form of the specific glass and how it hits the tongue to, not change the wine, but your awareness of it. "No one believes that a glass can make a difference in the perception of wine," Riedel says. "But imagine looking at a vineyard. Your view is the same; however the rain, fog or sunshine you experience doesn't change the vineyard, but how you perceive it."
Prior to entering the factory they have a ubiquitous display of their impressive glass from the 1900s to the present, including some beautiful decorative glassworks. Visiting Riedel allows you to watch, from a second floor platform, the hand blowing of the glasses. It is an exacting process as a team of 50 workers, wearing shorts, some donning sunglasses and gloves, withstand the searing heat billowing out of multiple ovens. Every glass shape and size is originally conceived using local pear wood as a prototype mold, then the final mold is made of steel.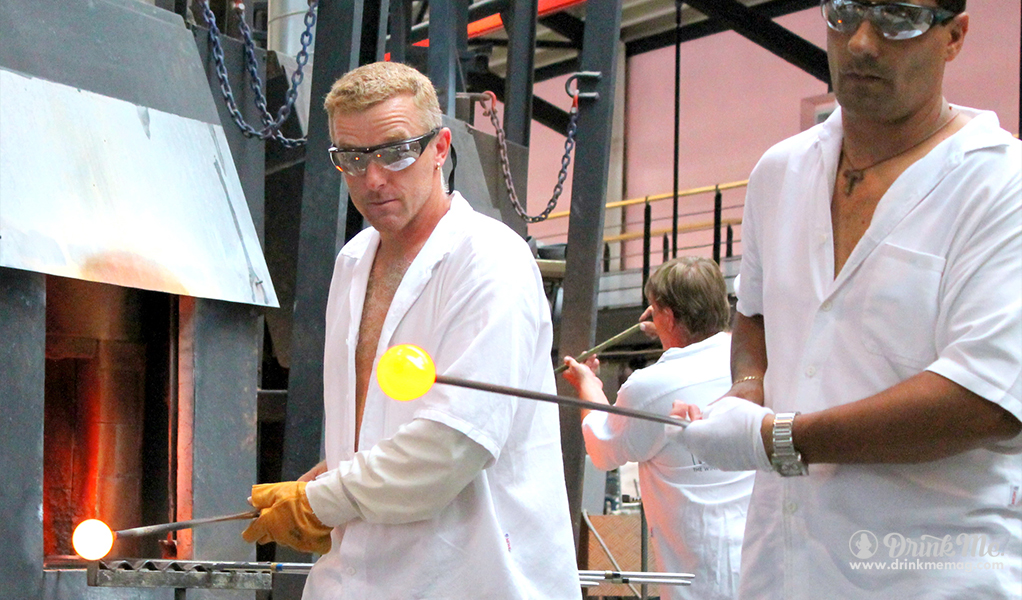 It will take less than four minutes to craft a Sommelier Series glass and timing is crucial. It is pulled from the furnaces at 900 to 1,000 degrees Celsius and workers have mere seconds to turn the gleaming blob of orange into proper stemware. "If the glass is too hot, it's too soft; if it's too hard it's too late," says Riedel. If the glass has the slightest imperfection it is discarded and the process starts again. I am allowed on the floor with the workers but I keep my distance as orbs of burning liquid glass are carried about on long poles and I am in no position to get in their way. Finally one of the workers, his shirt half unbuttoned and wearing sunglasses, grabs my arm and pulls me directly towards the searing ovens. I am three feet in front of the gleaming orange hot abyss and I begin to perspire immediately, my breathing impeded by the overwhelming heat and I am here for mere moments, unlike the workers who function in this environment all day. But there is no time to ponder as the work does not stop, and the ballet-like choreography of the men continues unabated, as wine glass after wine glass is created.
From pulling the liquid silica out of the fire to the glass blown into the mold takes about 55 seconds. That bowl is then heated on one end, in order to attach the stem and that process will take about one minute and six seconds though the actual making of the thin glass stem itself takes a mere 10 seconds; then the molten footplate, a red and orange blob of heat and glass needs about 10 seconds to be molded into a proper foot to rest on your table. I timed 3 minutes and 25 seconds on average to craft a Sommelier Series glass. And where are these glasses bound? Only 10% of their total glass sales are the high-end hand blown glasses, the Sommelier Series, but 30% of those 50 million glasses are being exported to the U.S. and, perhaps surprisingly about 40% are headed to China.
These days Riedel has expanded into bourbon, martini, brandy snifters water glasses, and Coca Cola glasses. Do Riedel wine glasses affect how you perceive wine? That's for you to decide, but Georg Riedel is certainly convinced. "Life comes with food, and food comes with wine, and wine comes with Riedel glasses," he tells me, a kind of bumper sticker wisdom. You can visit the Riedel factory in Austria and watch the process firsthand. It's free and well worth your time. Hours are Monday through Friday 9 a.m. to noon, and 1 p.m. to 4 p.m. In addition you'll be able to see glass works on display crafted at the turn of the century, and visit their outlet store.
TIROLER GLASHÜTTE GMBH
Weissachstrasse 28-34
A-6330 Kufstein, Austria
+43 (0) 5372 – 64896-901