If the average American was asked to name a wine from Portugal, the number one answer would probably be, "I don't know." The second most popular answer, likely, would be, "Port." This world-renowned fortified wine, though nowhere near as popular as it was centuries ago, is included in most wine drinkers' vocabularies; the name making it easy to associate with its country of origin. But while Portugal is known for its famous fortified wines – both Port and the island wine of Madeira – the most interesting bottles coming out of this oft-forgotten country are, in fact, table wines. With over 200 different local grape varieties and surprisingly large range of geographical and climate differences throughout this tiny country, Portugal is a nation of discovery for today's wine lovers.
Though Portuguese winemaking dates back to ancient times, demand for Portuguese wine reached its height in the 17th and 18th centuries, upon Britain's "discovery" of Port wine. After centuries of Portuguese wine being considered inferior to French wine, Port's style and richness satisfied British palates, and the difficulties between France and England only further increased enthusiasm. However, political struggle – both internal and external – throughout the 19th and most of the 20th century greatly affected the quality of Port, decreasing demand sharply. Particularly in the past 25 to 30 years, Portuguese winemakers have recommitted to producing high-quality wines, but today's preferences towards drier styles have caused producers to focus less on sweet, fortified wines, and more on dry, table wines.
Though barely the size of New England, Portugal has a wide variation of climates throughout the country. From cool, wet, Atlantic-influenced Vinho Verde, to the hot, dry plains of the Alentejo, these differing climates result in a wide range of wines coming out of Portugal. Drinkers of bone-dry, high acid whites or robust, powerful reds will each find a Portuguese wine to love, and often at a much lower cost than similar wines from neighboring countries. Because of the lesser popularity of Portuguese wines (as well as the current state of Portugal's economy), these bottles offer a huge value, giving consumers more bang for their bucks.
The Grapes
Typically, Portuguese wines are blends consisting of local grapes that most people have probably never heard of, much less know how to pronounce. Not to fear – that's what makes these wines so interesting! Though there are many to explore, a few key red and white grapes – known as castas in Portuguese – will pop up on Portuguese wine labels, and though they are sometimes blended with international varieties, the local, indigenous grapes are the highlight of Portugal's winemaking.
The most important red grape in Portugal is Touriga Nacional, which is most famously used in Port wine but also capable of making refined, robust table reds with aromas of blueberries and violets. Planted in several different regions of the country, Touriga Nacional also has the ability to show a sense of place; examples from the Douro differ from their counterparts in the Dão, which in turn differ from Alentejo bottlings. Castelão, on the other hand, is the most widely grown red grape and can be found mostly in the south of Portugal, where it can make rustic, well-structured wines.
While Baga is a notoriously difficult grape, it also may have the greatest potential to appeal to the American wine trade; grown in Bairrada and its surrounding regions, it is sometimes likened with Nebbiolo – tight and astringent when young, but able to gain layers of complexity with age. Spanish wine lovers will be pleased to know that Tempranillo is widely grown throughout Portugal, disguised under two aliases: Aragonês in the south, where it is often blended with Trincadeira and Alicante Bouschet, and Tinta Roriz in in the north, where it is typically blended with Touriga Nacional and its more floral sibling, Touriga Franca.
As for white grapes, Portugal's most planted white actually has two names: Fernão Pires in the south and Maria Gomes in the north, producing easy-drinking, aromatic wines. Encruzado, found mainly in the Dão, is widely regarded as the country's noblest white grape, making rich, fuller-bodied wines that often gain a nutty complexity and can stand up to oak. Arinto is known to produce crisp, clean whites throughout the country, and Alvarinho, Loureiro, and Trajadura (among others) comprise the widely-known, high-acid whites of the Vinho Verde. Antão Vaz, a Chardonnay-like variety, is also known for making rich, tropical-fruited wines in the warm, southern Alentejo region.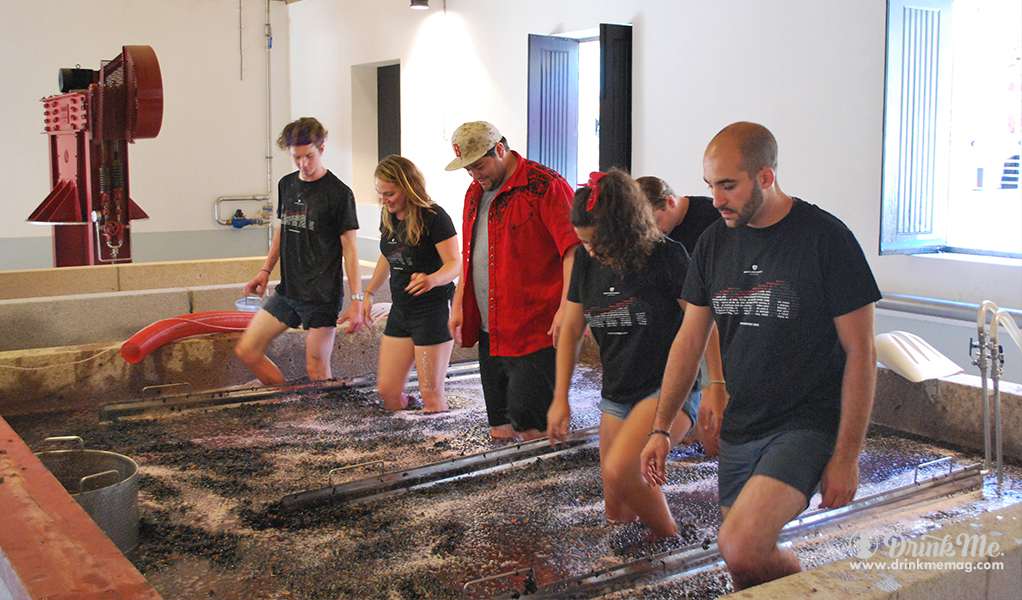 Portugal's Wine Regions
Portugal's sub-regions characterize the wines just as much as the grapes do, and sipping a sampling of different vinhos is akin to taking a tour through the country itself. Each bottle speaks not only to the landscape within which the wine was created, but to the warmth and care of the people who pour themselves into the wine's creation.
Tucked in the northwestern corner of Portugal, along the Atlantic coast, lies the country's coolest, wettest wine region, Vinho Verde, whose wines have become quite popular in the U.S. recently. The region's namesake blends, though literally translated as "green wine," are typically white wines meant to be drunk young (or "green"). Red and rosé Vinho Verdes are produced as well, though in much smaller quantities. Often slightly spritzy, Vinho Verde can sometimes have a reputation for being cheap and neutral, but the best bottles are high in thirst-quenching acidity and have mineral and citrus flavors.
A quick 90-minute train ride from the northern coastal city of Porto brings visitors to the legendary and breathtakingly picturesque home of Port wine, Douro. As demand for sweet wine has decreased, winemakers have increasingly been making unfortified table wines from grapes traditionally used in Port such as Touriga Nacional, grown in terraced vineyards cut into the steep hillsides of the Douro River. In fact, some of most historically famous Port producers, or quintas, such as Niepoort and Quinta do Noval, now make some of the region's highest-quality still wines. Douro wines can be white, red, or rosé, though the reds are most widely produced, ranging from fresh, clean examples meant to be drunk young, to rich, long-lasting wines made using traditional foot-treading methods and aged in new oak. The best bottles showcase a fine balance of luscious fruit, lifted freshness, and distinct minerality from the Douro's classic schist soils.
Surrounded by mountains, the Dão lies below the Douro region and relies on the same signature grape to produce some of Portugal's best reds: Touriga Nacional, which often takes on more of an herbal quality here. Though hot and dry during the growing season, altitude helps to preserve freshness in Dão wines, with many vineyards located mountainside. The Dão is also home to some of Portugal's most layered white wines, made from Encruzado, which has a richness that Chardonnay and Chenin Blanc drinkers will love.
The best wines from Bairrada, a region west of the Dão, are mostly centered on the Baga grape. Here, the rainier climate works well with this late-ripening grape, making age-able wines that can range from light and delicate to dense and structured. Fans of Burgundy, Beaujolais, and even Barolo should take the time to seek out wines from Bairrada.
The hot, southern region of Alentejo, which as a whole covers nearly 30% of the entirety of Portugal, can easily produce bulk, high-alcohol wine, often from cooperatives. However, more and more producers are taking steps to create hand-crafted wines, attempting to preserve acidity. Ripe, full whites and rich, structured reds thrive in the Alentejo, and as winemakers continue to experiment with grapes and soils, the quality is certain to improve even further.
By no means is this a comprehensive overview of the grapes, wines, and regions of Portugal; rather, it is a sampling of the diversity of Portuguese wine thus far, and a taste of what's to come in a country that is still experimenting and innovating with each vintage. Lisboa, Tejo, Algarve, and more offer countless options to continue discovering the far too underrated world of Portuguese wine.
Portuguese Wines to Try
Origin: Bairrada
Price: $15.99
A Portuguese winemaking legend, Luis Pato is credited with leading the charge for quality in Bairrada. His wines, across the board, are among the best in the country, so it's difficult to recommend just one. This dry sparkling rosé is made from the Baga grape and has just the right balance of strawberry fruit, acid, and minerality. Warning: it's highly addictive!
Origin: Vinho Verde
Price: $19.99
While most Vinho Verdes are blends that cost less than fifteen dollars, the Soalheiro Alvarinho sets the standard for what Vinho Verde should taste like. This absolutely does not skimp on flavor; juicy red apple and peach combine to create a round, delicious, slightly savory wine.
Origin: Alentejo
Price: $12.99
Founded in the 1980s, Herdade do Esporão has been at the forefront of quality still winemaking in the Alentejo since its inception. This single-varietal Verdelho, a grape most commonly used in Madeira, is a dry, refreshing wine built for summer sipping, with tons of ripe citrus and peach. Seek out other wines from Esporão as well; every bottle contains a bit of Alentejo sunshine.
Origin: Bairrada
Price: $18.99
Filipa Pato is a pretty darn awesome young winemaker making fantastic, terroir-driven wines. The daughter of the aforementioned Luis Pato, Filipa chose to strike out on her own after studying & visiting wine regions around the world, and she isn't afraid to experiment in order to fully embrace the potential of the Baga grape. The FP Tinto is like a cross between Gamay and Pinot Noir: lighter-bodied, with tart cranberry and raspberry flavors, along with a hefty dose of earth. Fans of natural wine will love this bottle. After changing importers, more of Filipa's wines are slowly making their way to the States, so be on the lookout; they are not to be missed.
Origin: Douro
Price: $23.99
Owned by a husband and wife team, Wine & Soul's entry-level red is classic Douro. A blend of Touriga Nacional, Touriga Franca, Tinta Roriz, and Tinta Francisca, it is quite pretty on the nose, with aromas of red cherry and violet, while the palate also brings in subtle notes of spice. This is the kind of wine that is delicious now but will be fabulous for years to come.
Origin: Dão
Price: $16.99
One of Portugal's most renowned winemakers, Alvaro Castro is widely acknowledged as the true pioneer for high quality wine production in the Dão. The nose on this wine is so completely evocative of Portugal – blueberry, blackberry, and a lifted floral quality. This is a robust, full wine masquerading as an easy-drinking, everyday red. Such a truly beautiful wine.
Origin: Alentejo
Price: $17.99
A relatively recent addition to the U.S. market, this wine from José de Sousa is made from vines surrounding Reguengos, the 2015 European Wine City. Partially vinified in traditional small clay pots, this blend is incredibly layered with flavors of red cherries, earth, tobacco and spice. An incredible value for such an excellent wine.