As you can imagine in Scotland's capital city, you are spoilt for choice when it comes to bars selling whisky. But there is a fundamental difference between a bar that sells whisky, and a whisky bar. These are the top 5 whisky bars – where the knowledge and choice of dram matches the service – in Edinburgh.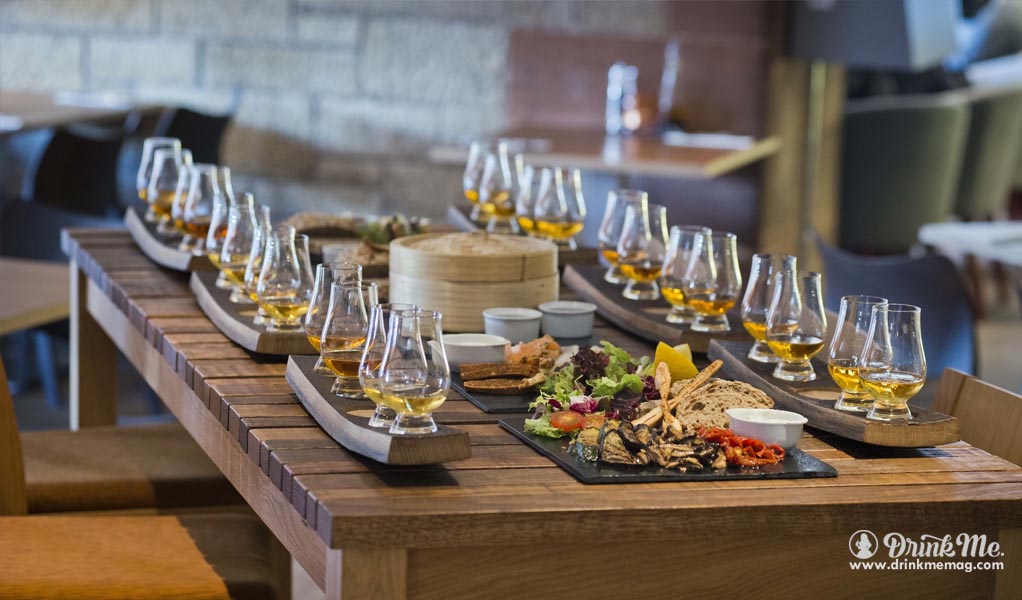 Bearing in mind Amber is located in the Scotch Whisky Experience at the top of the Royal Mile, it would be worrying if it didn't make the top 5 list. But it's here on merit, not just because it's part of a tourist attraction dedicated solely to whisky. The beautiful illuminated bar is home to nearly 400 whiskies, and the bar staff seem to know about every single one, so they can help you choose the best dram to go with every individual dish on their novel Scottish tapas menu.
Location: 354 Castlehill Edinburgh EH1 2NE
Opening Hours: 12 noon until 9pm 7 days a week
Price Range £££
Connect: Facebook // Twitter //Web
Within stumbling distance of Amber is a personal favourite of mine, the Whiski Rooms. It was voted the best whisky bar by the British Institute of Innkeeping in 2014, and you immediately see why when you step through the doors. The brilliant staff know all there is to know about the water of life, and with over 300 drams to sample it's just as well. The pub is also a dedicated Ardberg Embassy which, even if you're not a fan of that particular malt, is indicative of the high regard people have for the place.
Location: 46 North Bank Street Edinburgh EH1 2LP
Opening Hours: 10am until 1am 7 days a week
Price Range: ££
Connect: Facebook // Twitter // Web
A wee gem of a bar located smack bang in the city centre in Rose Street. Although its whisky selection is limited compared to some – only 100 or so – you can enjoy your dram while tapping you feet along to authentic and traditional Scottish folk music. If this Black Cat crosses your path you are definitely one of the lucky ones to find it.
Location: 168 Rose Street Edinburgh EH2 4BA
Opening Hours: 10.30 am until 1am 7 days a week
Price Range: ££
Connect: Facebook // Twitter // Web

This city centre boutique hotel is home to a cooler more contemporary whisky bar, but don't let that put you off. The fine food and salubrious surroundings make you feel rather decadent when enjoying your chosen dram, and there is plenty to choose from with over 200 brands on the back bar. The staff seem to know their stuff, but based on my experience, stick to the unadulterated whisky as their cocktails were a tad on the ordinary side. But hey, this article is about whisky bars, not cocktail lounges so let's not get picky.
Location 9-11 Hope Street Edinburgh EH2 4EL
Opening Hours Unavailable, contact the hotel
Price Range £££
Connect: Facebook // Twitter // Web