Bring out the best Scotch whisky you've been stashing away in the back of your cabinet. Once that's done…you can continue to prepare with the following steps as guidance.
The first Burns Supper was held in 1801, exactly five years after the death of Scotland's most treasured and lauded poet, Robert Burns. (Burns is perhaps best known in the United States for writing Auld Lang Syne, traditionally sung on New Year's Eve.) Nine men, surely missing the comfort of their friend's prose, gathered on the anniversary of his death for a dinner at Burns Cottage in celebration of the poet's life.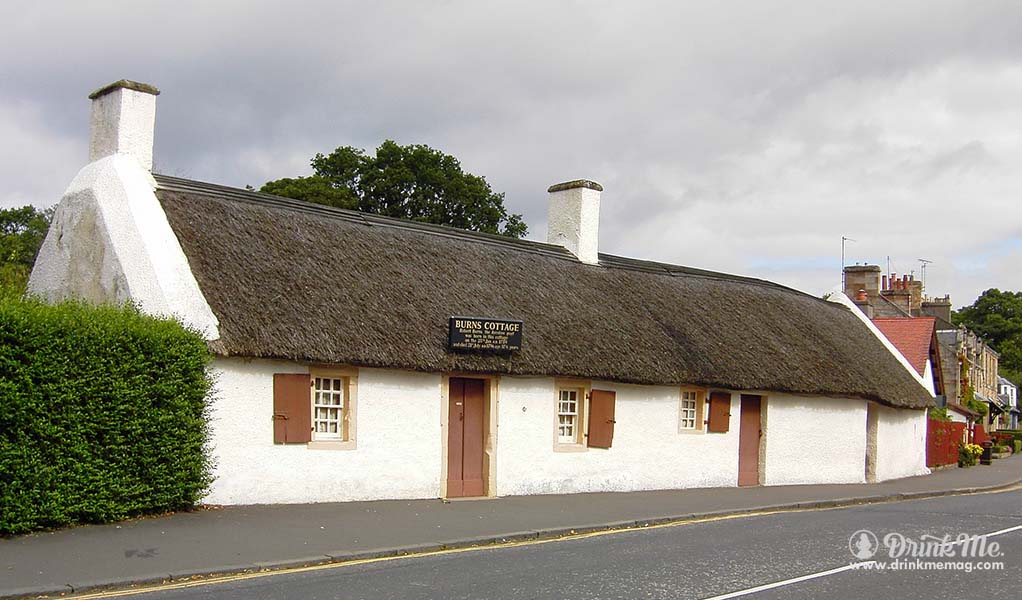 In what was clearly a proper tribute to their friend they decided on a meal of Haggis with neeps and tatties (turnip and potatoes to you and me), to be washed down with scotch, and peppered through the evening were songs and recitations of Burn's poetry. Late into the evening, they finished with a toast to the memory of their friend Rabbie – as he was known in his hometown of Alloway, Ayrshire in Scotland.
The celebration was such a success that they decided to do it annually – moving the meeting date to his birthday, January 25th. The National Trust for Scotland Foundation USA gave DrinkMe some great advice on how you can create your own Burns Supper at home.
Step One: Bagpipes (of course)


Pipe in guests with bagpipe music. Not much of a piper? Fear not. Pandora has you covered. Or you can Google Fiona Mackenzie or Maureen McMullan for some genuine ambiance.
Step Two: Say Grace


Get your Celtic cultured mouth around this, and then say it aloud to the room as the haggis rolls in.
Some hae meat and canna eat,
And some wad eat that want it,
But we hae meat and we can eat,
And sae the Lord be thankit.
Here's what all that means:
Some have food and cannot eat,
And some would eat but have no food,
But we have food and we can eat,
And so the Lord be thanked.
Step Three: The Haggis


You know you love Haggis. Don't you? Well, if you don't cherish the thought of eating sheep's pluck (heart, liver, and lungs), minced with onion, oatmeal, suet (the fat found around the kidney and other organs), spices, and salt, mixed with stock, traditionally encased in the animal's stomach, you can substitute with sausage or meatloaf, not sure they're any less crude though. For what it's worth, this writer has eaten Haggis and it's one of the most delicious meats I've ever had.
Step Four: Talk To The Haggis


Yes, really. Here's what to say, to the, erm, plate of food.
Fair fa' your honest, sonsie face,
Great chieftain o the puddin'-race!
Aboon them a' ye tak your place,
Painch, tripe, or thairm:
Weel are ye worthy o' a grace
As lang's my arm.
The groaning trencher there ye fill,
Your hurdies like a distant hill,
Your pin wad help to mend a mill
In time o need,
While thro your pores the dews distil
Like amber bead.
His knife see rustic Labour dight,
An cut you up wi ready slight,
Trenching your gushing entrails bright,
Like onie ditch;
And then, O what a glorious sight,
Warm-reekin, rich!
Then, horn for horn, they stretch an strive:
Deil tak the hindmost, on they drive,
Till a' their weel-swall'd kytes belyve
Are bent like drums;
The auld Guidman, maist like to rive,
'Bethankit' hums.
Is there that owre his French ragout,
Or olio that wad staw a sow,
Or fricassee wad mak her spew
Wi perfect scunner,
Looks down wi sneering, scornfu view
On sic a dinner?
Poor devil! see him owre his trash,
As feckless as a wither'd rash,
His spindle shank a guid whip-lash,
His nieve a nit;
Thro bloody flood or field to dash,
O how unfit!
But mark the Rustic, haggis-fed,
The trembling earth resounds his tread,
Clap in his walie nieve a blade,
He'll make it whissle;
An legs an arms, an heads will sned,
Like taps o thrissle.
Ye Pow'rs, wha mak mankind your care,
And dish them out their bill o fare,
Auld Scotland wants nae skinking ware
That jaups in luggies:
But, if ye wish her gratefu prayer,
Gie her a Haggis.
Step Five: All Hail The Haggis


After completing the lengthy address to the Haggis in Step Four, the meat is theatrically cut into, while everyone applauds and raises their glasses and shouts "The Haggis". Our advice is to practice this or make a small incision before the theatrics so that your guests don't get covered in flying Haggis!
Step Six: The Full Three Courses


The starter is typically a soup called "Cock-a-Leekie" containing chicken broth and leeks.
The main is, of course, Haggis complete with neeps and tatties (turnip and potatoes).
Finally, the dessert, Cranachan, is a Scottish dish made with whipped cream, whisky, oatmeal, honey, and raspberries.
Step Seven: Sing, Drink And Be Merry


There is often a piece by Burns sung by an individual or group such as "Ae Fond Kiss" – although if you are not the singing type, a recital of a poem by Burns always goes down well. Have some Burns books handy and take turns reading your favorite poems while imbibing the best Scotch whisky your home has to offer.
Where To Go:
Here are some bars celebrating Burns Supper around the country this week, for lucky readers close enough to visit.
The Haven in Boston, Mass, celebrating January 25th, 27th and 28th, although at time of posting this story, tickets were already sold out for the 27th.
The Highlands in the West Village, NYC does a fantastic bash, but fills up annually. Call ahead of time to ensure you get a spot.
The Dorset in Vermont. Check-in early and make a long weekend of it. The fun starts at 6:00 p.m.
The Restaurant at Burdick's in New Hampshire which is partly owned by Ken Burns (yes, he's related), is worth checking out. Call ahead to see what's available.
Old Line Fine Wines, Spirits and Bistro in Washington, D.C. is celebrating for its fifth year and it's a wonderful party.