Who says beer can't be Gluten Free AND taste good? After going to Ghostfish, I certainly can't! Their taproom just opened in March and they are showing the Craft Beer scene that you can have a good variety of beers that taste good that are also Gluten Free.  Located South of the Dome (SODO area), their new taproom is easy to find on 1st Ave.  They do have limited reserved parking but don't let that discourage you – park on the street and pop on in.
They currently have a variety of beers on their menu, ranging from Belgian to Stout.​ You can grab a Flight and try a few different beers to see what all the fuss is about or if you have a favorite already get a pint, or better yet a growler; or, if you just want a small taste of one, ask for a 7oz pour.  Prices are reasonable for the selection and the flavor.  When we went in it was packed but the taproom is open enough to where you don't feel like you are crammed in with the rest of the patrons.
You may be thinking this is all hype – but I am telling you as someone who can drink a normal IPA or a Gluten Free IPA their beers are legit! They are super inventive and if you didn't know that they were gluten free I am not sure you would miss it.  I was able to try all beers they currently offer between the sampler of 4 I got, the small taster of Stout, and stealing a sip of my friend's pint.  Here are my thoughts – I really liked the Vanishing Point Pale and the Grapefruit Single-Hop IPA.  If I were going to drink an entire pint or more I would go with the Pale,​it was scrumptious… ​If you are a fan of citrus notes in your beer, you have to try the Shrouded Summit Wit, Grapefruit Single-Hop IPA, and the Belgian ISA.  They all have a great citrus note to them, so try them all to find your ultimate favorite.​ I am a sucker for a good Red or Amber and I happened to notice that their April menu has a Restless Red Ale I am going to have to come back for.  ​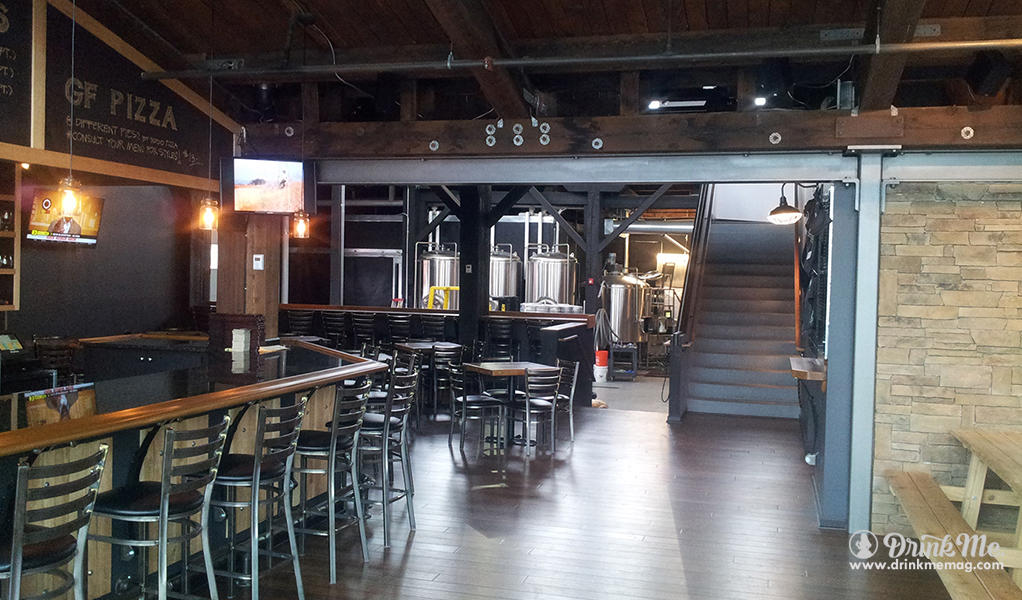 A few other callouts that I didn't try but would remiss if I didn't bring up​…​ Still not sold on the gluten free beer movement?  ​That's ok​, they have 2 Ciders (which are gluten free btw​, it's a cider so it doesn't get judged ha!)​, and for those "beer" drinkers who can't go outside the box they also have Fremont Brewing Co IPA on tap and it is clearly labeled "NOT GF!".  If beer isn't your thing, they have wine as well, but you are there with people who are into the craft beer movement.  Here is a cool extra – you can get GF Spent Grain Granola – WHAT? This is produced by The Brewmaster's Bakery.
Up to this point I haven't mentioned food – don't worry​, they have that covered since​ they have partnered with SODO Pizza to bring in several​, and I mean several​, different Gluten Free pizzas that are all premade and ready to order.  We had the "Bird in the Bush", a chicken pesto pizza that was great, and the best part – it didn't taste premade.  For $11 two people can easily share the 13" pizza.
Can't make it to SODO to grab a beer? ​Don't sweat it​, they have a few outlets around the Puget Sound​ area​ where​ you can pick up their Watchstander Stout in bottles​: 7 Sea's Brewing​, Chuck Hop Shops (Central Dist & Greenwood), Marlene's Mkt & Deli (Federal Way & Tacoma)​, Razzi's Pizzeria​, and The Beer Junction (West Seattle).​
Location: SODO Neighborhood – 2942 1st Avenue South, Seattle, WA 98134
Hours: Tues-Sat: 3 PM to 9 PM (Closed Sun/Mon unless there is a Seahawks, Sounders or M's Game)
Price: $$
Connect: Facebook | Twitter | Web | Untapped | Contact