The NYLO NYC mixes-up cocktails Andy Warhol would approve of.
If Andy Warhol were alive today, we would probably love social media. Instagram especially, like Warhol and his art is fast, visual, attention-seeking and mass-production. So when the Nylo decided to launch an arthouse film series, the idea to start with a Warhol inspired film worked-in perfectly with the concept of paring the films with creative custom cocktails.   If you think of Warhol's work the first image that pops to mind is likely a Campbell's soup can. "The Muse" a blend of gin, St. Germain, grapefruit, orange and cinnamon, is served up in a handpainted soup can with a metal straw. Next in a nod to another iconic Warhol image, the "It Girl" is a cola daiquiri with Bacardi Ocho, cola cordial, lime and cherry bitters. These two presentations are both kitchy and obvious, while also being fun and unique at the same time – perfectly pop and very Instagrammable. The extremely commercial branding of each drink brought to mind Genuine Liquorette and its #chachunker cocktails served in soda or juice cans with mini bottles of liquor, so if you're the kind of imbiber who likes to document your cocktail consumption, you should absolutely stop by for a drink.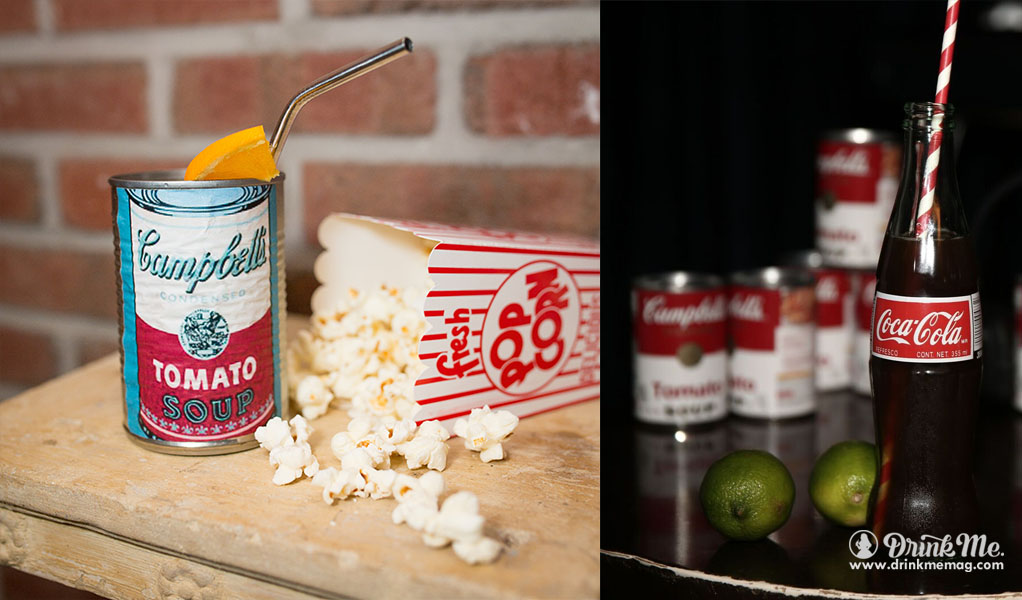 The cocktails are slick, but the experience is not by the way, it's very relaxing and homey. The small screening room is basically like being in someone's living room with couches, comfy chairs and popcorn. It feels almost like a night in. Overall, it's something different to mix up your week instead of just hitting a bar or restaurant, and the $10 fee for the movie is very reasonable. A good choice for a fun, casual night out for a date or a catch-up with a friend. Factory Girl was primarily about the reality (drug addiction) and less about the glamour of being Warhol's muse, so it was definitely not as fun as the cocktails, but its run has ended.   Next up in terms of films are two more upbeat and interesting picks "Girl With the Pearl Earring" starring Scarlett Johansson about the Dutch painter Vermeer (maybe a Dutch coco chocotini is in the works?) and afterwards the documentary-style "Exit though the Gift Shop" about the reclusive Bansky and the rise of street art, should give the mixologists at Nylo plenty of opportunities to continue to innovate and impress.