Exciting news – At Drink Me magazine, we are launching the inaugural "Drink Me Awards Program" honoring outstanding members of Napa community, who show excellence in several categories.
I have been visiting Napa Valley for 20 years, and have been blessed with many wonderful wine experiences. I've visited the bulk of the region's wineries and the vast majority of my wine impressions have been very positive. In fact, it often left me wondering whether any of the Napa wineries make mediocre wine.
Theoretically, that has to be true; yet most of what I tasted showed varied degrees of good, with an occasional epiphany thrown in. Napa's high level of quality poses its own dilemma – it's both easy and challenging to choose favorites.
We have often written about the Napa's excellent wine – a favorite subject. This time, we decided to explore notable categories that are closely tied, yet distinctly different from the wine side of things.  These awards are about hospitality, ambiance, commitment to sustainable farming, wine education and the best value for your tasting money.  These wineries represent some of the best bets in their respective category and are worthy contenders for your time.
The criteria were simple, the mission complex – nail down the best of the best in a region known for its hospitality. Wineries is other regions look up to Napa – it's above the competition. The wineries on this list below demonstrate why that's the case.
Best Food and Wine Experience
B Cellars

Owners Jim Borsack and Duffy Keys, bought the property in 2003 and breathed new life into a decades old winery. Their mutual passion fueled a fusion, a winery that is known for its inspired wines and thoughtful food. To accomplish that, they partnered up with Kirk Venge, a highly accomplished winemaker and son of a renowned vintner, Nils Venge. Some of his other clients are Bacio DiVino, Igneous, Jax, JR Wine, Hunnicut, Frazier, Macauley Vineyard, Trespass and more.
They also retained a chef de cuisine, Chef Brian Michael Green. Chef Green's culinary experience includes tenures with Wolfgang Puck at the famed Spago in Beverly Hills, Daniel Boulud at Daniel and celebrated pastry chef Dominique Ansel. Trained in French-technique, Brian crafted a menu that celebrates the integrity of his ingredients. His menu is driven by local, seasonal fare, often featuring vegetables from his own culinary garden, fruit orchard or designer hen coup. Brian even started his own beehive. Now, that's commitment!
The partner's vision for B Cellars became a reality upon securing fruit contracts with some of the most sought-after growers in the valley (such as Andy Beckstoffer) and creating a diverse vineyard portfolio that is focused on multiple varietals.  They produce wines that are both age-worthy and approachable.
Several Napa wineries offer worthy food and wine pairings. What makes B Cellars especially memorable is the cohesive, integrated nature of both efforts. B Cellars unique approach of creating a brand around the concept of combining a stellar chef and stellar wines has paid off, and makes for a fabulous experience.
Best Indoor/Outdoor Experience
Somerston Estate

If you merely look around, it's not difficult see striking beauty virtually anywhere in Napa. Somerston is a poster child for pastoral landscapes and friendly, casual atmosphere. They are a triple threat – a lovely tasting room in Yountville, a spectacular and rather never-ending property near Lake Berryessa, and a "Nordstrom" philosophy of customer service. (Both locations welcome guests, the latter by appointment only.)
They pride themselves on viticultural excellence and long-term steward-like approach to the land. Craig Becker, brand partner and winemaker started out on a very different path, as an aspiring politician and civil servant. Once he discovered farming, it became an instant and lifetime connection with the land. He considers himself a wine grower (not grape grower!) With only 13% under vine, the vast, multi-thousand-acre property houses two distinct brands – Priest Ranch and Somerston. It's also home to 600 sheep, who serve as natural lawnmowers. There are over a dozen varieties planted, predominantly red, but there is a parcel of Grenache Blanc, the only one grown in Napa Valley. Multiple vineyards are subdivided into blocks; each is farmed individually. The focus is on quality, not quantity. Some of the fruit is sold to the likes of Kathryn Hall, Orin Swift, Buccella, Lewis, Venge, Reynolds and several other high-profile producers. They practice a long-term approach to both land and brand management, and are not in the business to collect accolades or for short-term gain. They produce very competitively priced wines that show a sense of place. A favorite is Stornoway, a 300 case Merlot-based blend. The ATV tour is tons of fun. First, you are treated to a glass of sparkling, then see the production facility, drive, through the vineyards, and up a knoll to take in the stunning views. You will pass by a picturesque, idyllic lake with a couple of swans and some ducks and check out a "party barn' where all the fun magic happens. Upon return, you will be treated to an array of white and red wines along with some cheeses. It makes for a lovely afternoon as a group or a couple.
Top Commitment to Sustainability
Wise Acre

Wise Acre is actually only a 1/2-acre vineyard. It is located at the 600 ft. elevation on Howell Mountain. It is owned and farmed by Lynn and Kirk Grace who bought the property in 2003, subsequently planting the vineyard in 2005. Lynn is a Napa Valley native; her family owned a ranch in Oakville, so she grew up in the vineyards. Kirk's parents founded Grace Family. Kirk has been working with vineyards in Napa for thirty years. He is currently the vineyard manager at Stag's Leap Wine Cellars. Kirk and Lynn sourced the rootstock from Grace Family. The small estate is planted exclusively to Cabernet Sauvignon.
The gently sloping vineyard backs up to the hillside, in a neat, tucked away spot. The Graces use organic and biodynamic farming practices. Their core philosophy is to partner with the land, not to control it. They live out the principle that wine is made in the vineyard and high quality fruit starts with well-cared for soil. Lynn and Kirk spend every available moment managing their vineyard, vine by vine. They utilize many natural resources, such as indigenous cover crop, sheep that are brought in for foraging and biodynamic compost "teas." The teas are made on site and sprayed onto the vineyard to encourage a variety of good bacteria and increase the plants' nutritional consumption.
They are currently the tiniest producer in Napa. The production is entirely contingent on the vintage; it has been as low as one barrel and topped out at a hundred cases; the maximum they are willing to make. The wines are some of the most authentic expressions of terroir I have tasted. Although somewhat restrained, the level of elegance and sophistication is unrivalled. They epitomize the partnership of land and its stewards.
Their wine label, depicting rain, moon and sun reflects all the elements required for fruitful farming. Their commitment is self-evident – implement practices that are clean, contextual, considerate – thus giving their vines every chance to bear the best fruit.  I urge you to seek their wines out.
Best Napa Valley Views
Ovid Vineyards

Upon the successful sale of Ovid Technologies, a medical database company, Mark Nelson and Dana Johnson decided to launch the namesake winery. They hired an all-star architect, Howard Backen, who had designed some of Napa Valley's most famous wineries, to create their stunningly elegant tasting room with its signature floor-to-ceiling glass windows.
Roman poet Ovid is best known for his sonnet, Metamorphoses, an ode to transformation. Arguably, visiting Ovid is a spiritual, transformative experience. Floating high atop Pritchard Hill, this chic, modern, sculpture-like winery features a wrap-around terrace with panoramic views of the valley, from Yountville all the way to Calistoga. The vineyards are all farmed organically, without fanfare. Their gravity flow, eco-friendly, CCOF-certified solar-power and state-of-the-art winemaking facility is spectacular.
The wine production team includes vineyard manager David Abreu and consulting winemaker Michel Rolland. Austin Peterson, a young, yet powerful winemaking talent has had the reigns for several years. Ovid produces premium Bordeaux blends, typically composed of Cabernet Sauvignon, Cabernet Franc, Merlot and Petit Verdot. Production hovers at several hundred cases per annum.  Their wines are highly allocated and quite extraordinary; decidedly worth seeking.
Best Napa Valley Education
Culinary Institute of America

The choice of the CIA is a little bit of a fudge. Clearly, the CIA is not a winery; it's a food and wine educational institution. Located in charming St Helena, this historic 1889 building, is an epicenter for food and wine industry superstars. Exterior old world timeless charm is combined with interior modern and state-of-the-art facilities that make the learning process smooth and gratifying.
A multitude of Napa wineries offer wine enlightenment, at various depths. One can certainly opt to take in a little crash course for the afternoon. Or, you can immerse yourself in the best wine education in the Valley at the CIA. Many don't realize that CIA offers a wide range of educational programs, not just accredited degrees. Consumer-orientated curriculums, such as the programs that range from a single to several day wine boot camps, are unparalleled. If you are fortunate enough to take a course from Bob Bath, it will change your life. In addition to being a Master Sommelier, he is a highly accomplished writer, educator and importer. Most importantly, he is a consummate teacher and mentor.
Whether you are a seasoned wine lover or a just beginning your journey, the knowledge you will gain there will last a lifetime.
Best Cave Experience
Brand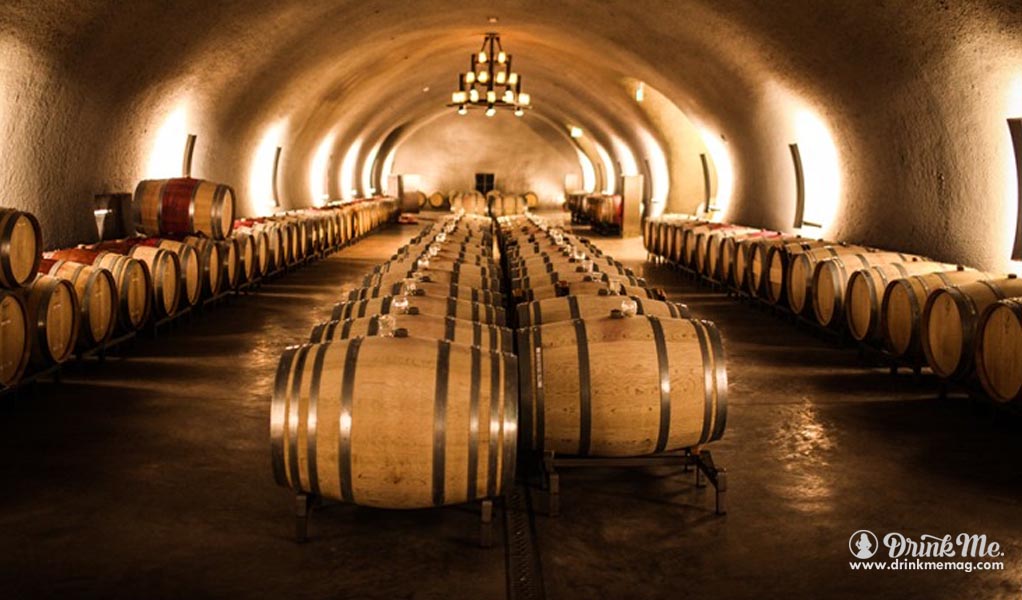 Another Pritchard Hill treasure to behold is Brand. If you wish to develop a case of cave envy, step into Brand zen-like caves and hold your breath.
Pritchard Hill is known for its provides sweeping panoramas of the valley floor and the surrounding areas. Its mountain fruit vineyards are clearly the source of some of California's most exciting reds.
One of the newcomers to the glamorous address is Brand Napa Valley. Brand's proprietor, Ed Fitts, spent forty years in the business world, and was the founder of Dopaco, a manufacturer of environmentally friendly packaging for companies such as Burger King and McDonald's.
A decade ago, Ed and his wife Melinda purchased a home, along with 110 acres, on Pritchard Hill. In 2007 he hired high-profile winemaker Philippe Melka, by 2012 a state-of-the art winery was finished. Next a laborious process of vineyard development began. There are now a dozen acres of vineyards spread over the different elevations of the property, with a dozen different blocks. The vineyards are planted to Bordeaux varietals.
Colossal boulders scattered across the property are visually impressive, but made it a formidable challenge to plant. Walking the Brand Napa Valley's first vintage was in 2009, and instantly found favor with the critics. In fact, in a challenging year such as 2011 Brand was one of only four wines scoring 94 or above on Wine Spectator 100-point scale.
The winery was designed by Juan Carlos Fernandez, who took the inspiration from corrugated metal buildings found in the rural western mining towns of Nevada and Colorado, and old barns, found along extreme Sonoma Coast. Famed landscape architect Hoichi Kurisu synchronized Japanese Zen garden vibe with modern realisms of a rustic setting to achieve a heightened sense of connecting to nature.
Its unique location above the cloud line makes for a magical setting. The caves are some of the most breathtaking in the valley, with barrels stacked in a single row, to let the wine rest without any disturbance. The wines are crafted in tiny quantities by one of Napa valley's most important winemakers. The estate director, Greg Gregory, a former wine collector, is one of the most knowledgeable in the business. Try and request a tour with him, you will be in for a huge treat.
Best Resort to Stay and Play
Meritage Resort and Spa

There are lots of fantastic hotels in Napa Valley, ranging in price from hundreds to thousands of dollars per night, each offering a unique spin on Napa Valley hospitality.
What makes Meritage different is its integration of wine, food and lifestyle experiences all under one roof. You literally never have to leave the property.
There is the Trinitas Cellars tasting room right in the caves.
Executive Chef Ryan Rupp crafts a seasonal menu that are locally sourced and showcase California bounty along with traditional Mediterranean flavors.
One of the best venues I know to get hitched, it has an on-site chapel, a priest that can be contacted to conduct your ceremony, a vineyard site, where you can get married in a lovely gazebo, two restaurants, and a stunning cave for an elegant dinner, a bowling alley for a blowout party, swimming pools, and a spa, of course.
Best Winery Hospitality Staff
Gandona

A mere twenty-minute drive from the Valley floor, another Pritchard Hill winery, Gandona, takes top honors for hospitality. Aside from their impressive location, wine offerings, their staff is stellar. Kenny Koda, former winery director at Rudd Estate, he is a consummate host: kind, considerate, knowledgeable – a great brand ambassador.
Proprietor, Manuel Pires, a Connecticut resident, first visited Napa in 1976. His visits became systematic, and by late 90's he was ready to acquire a property. After searching for a perfect mountain-side location for years, in 2006, he and his wife Cristina purchased a 116-acre property. Originally from Portugal, Manual spent his summers on his grandfather's farm in the Douro region. "Gandona" was his grandfather's nickname. Translation from Portuguese? "Humble man."
The property's original footprint, for what is now Gandona's vineyard, was developed in the 70's by Pritchard Hill pioneer, Bob Long. The grapes were planted on steep (as much as 40%) slopes, before the county introduced the ordinance, prohibiting terraced vineyard plantings. The majority of the vineyard is a basin of sorts, boasting deep, rich soils. As a result, vineyard is a predominantly dry farmed. Only 10% of the land, 17 acres, are planted to several varietals: Cabernet Franc, Cabernet Sauvignon, Chardonnay and Petit Verdot.
Manuel personally managed the construction of the caves and the hi-tech winery, built into the hillside. The first Gandona vintage was released in 2007. Celebrated winemaker, Philippe Melka crafts the wines. There is a small amount of sublime Chardonnay from their one-acre parcel, an estate blend called Encosta, translated into English as "hillside land," and their flagship wine – Gandona Estate, made from the oldest Cabernet plantings on the property. As an homage to Manuel's Portuguese heritage, they produce a few cases of Port wine from Touriga Nacional, that is also planted on the property, and is a notoriously challenging grape to grow.
This piece of Napa Valley world feels worlds magical, remote, singular. Estates and surrounding vineyards are hovering on the edges of steep, rocky hillsides. The views evoke powerful emotions; the majesty of the land, with its rolling hills, reservoirs – raw beauty of Mother nature. Visits are by appointment only.
Best Wine Tasting Experience Value
Schramsberg

Stepping into Schramsberg grounds is akin to stepping back in time. This enchanting estate is tucked into the densely wooded hills of Diamond Mountain, just south of the sleepy town of Calistoga. It is home to the oldest hillside vineyards in Napa vine.
Jack and Jamie Davies acquired the property in 1965, the same year their youngest son Hugh was born, and embarked on an ambitious journey of restoring it and producing wine. Credited with the first use of Chardonnay in sparkling wine in the U.S, the brand grew exponentially, and is now known worldwide as one of top sparkling wine producers in the U.S.
In late 1800s, Chinese laborers painstakingly built thousands of sq. feet of caves by hand, with additional tunnels added in the 1980s, using more modern methods. The walls still bare pick marks, pointing to its history. Now totaling 34,000 sq. feet, they house up to 2.7 million bottles aging there from two to ten years prior to release.
The estate is a registered historic landmark that has been beautifully restored by the Davies family. Victorian structures, winery, caves and barn are virtually unchanged since the original owner, Jacob Schram's days.
Schramsberg's sparkling wines made their own history, their Blanc de Blanc has been served at official State functions by every U.S. President since Nixon.
In 2005 Hugh Davis took over the winery as president, passing the winemaking reigns to two winemakers, Keith Hock and Sean Thompson. Keith is responsible for the sparkling program. His background includes working at Rudd Estate and Saintsbury. Still wines are made by Sean Thompson, who worked at Rutherford Hill and Staglin. The J Davies brand produces outstanding Diamond Mountain District and Estate Cabernet Sauvignons as well as Pinot Noir from cool climate vineyard sites.
Schramsberg sources fruit from dozens of vineyards across Anderson Valley, Carneros, Marin and Sonoma Coasts, that contribute to over 200 small lot wines. The cave tour and the tasting are phenomenal. You will learn all about the sparkling wine production, including the painstaking, labor-intensive task performed by master riddler, who turns bottles at a rate of 50,000 turns per day! You will taste a Blanc de Blancs, a Blanc de Noirs, a venerable J. Schram, a still Pinot Noir and a very exciting Reserve Cabernet. Considering that two of the wines in the lineup retail for $125 per bottle, a tasting and tour fee of $60 seems like a huge bargain.
Best Barrel Tasting
Del Dotto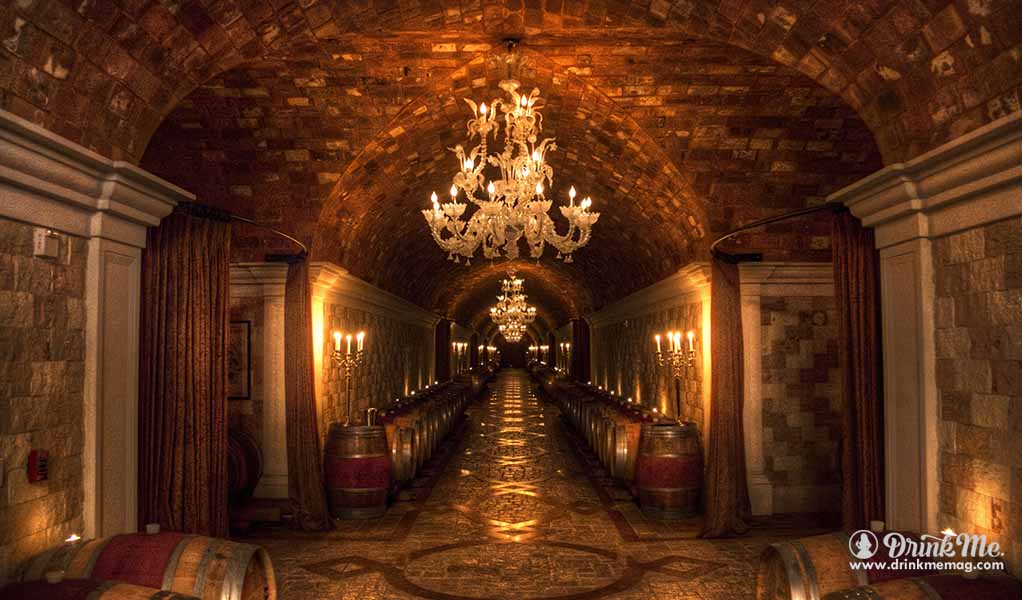 If you are craving a comprehensive, engaging, educational, entertaining, glamorous, opulent experience Del Dotto barrel tasting is for you.
Tasting wine at various stages of maturity, anticipating what the unreleased wine tastes like gives you a sneak peek into it as it evolves. In essence, you get to walk in the winemaker's shoes.
Resembling a Venetian Palazzo, the cathedral, crafted of imported Italian marble with the spacious entry adorned with massive Murano glass chandeliers and sconces, marble columns, floors and murals will impress anyone. Indulge your senses in soulful opera playing through the sound system. On your way into hand-finished caves you might even bump into the owner, the ever charismatic Dave Del Dotto, leading a tour. Italian hospitality is alive and well.
Del Dotto's staff is well trained, knowledgeable and welcoming. They conduct an extensive barrel tasting while educating guests about the barrels themselves, all fifteen different types that are used, the vineyards. The tasting typically includes tasting several wines from the barrels in the caves.  The tastings are followed by hors d'ouvres and finished wines in the tasting room. It's a progressive varietal tasting that starts with estate rose, Chardonnay, and moves on to Pinot Noir and Cabernet blends, capped off by a dessert wine.
Given the fact that they make hundreds of different offerings, you will certainly have an opportunity to taste a lot of wine. Spit or swallow, the choice is yours. (Just beware that the tour was nicknamed Del-Blotto for a reason) A designated driver is a must if you choose to imbibe.
Estate chef, Joshua Schwartz, whose prior engagements included French Laundry, Bouchon and Per Se impresses guests with cured on-site, utterly delicious charcuterie, panini and pizza, and, some artisanal cheese makes an appearance, of course. All the food is meant to pair perfectly with the wines. There is a special "Delicacies by Del Dotto" menu that is a more extensive wine/food pairing immersion.
For $60-$75 you will be educated, generously wined, well fed and thoroughly entertained. I say that's a deal. Beware that there are two locations, one in Napa and one in St. Helena, when you make your reservations.