Good day wine sippers. If you've found yourself here, then hopefully you're interested in finding out more about Malbec, or maybe discovering some new Malbecs. This article is part of a series of blind tasting features where we gather together a broad selection from UK suppliers (both online and high street) and pit them off against eachother. The tasting is conducted under strict blind conditions, ensuring no bias or pre-conceptions.
A total of 18 Malbecs were double decanted and left to breath for 3 hours, then we sipped and spat through the flight taking time to discuss and score each wine. We revisited the five with the highest scores to further calibrate. In this article I've featured the top 10 wines from the tasting. As such, they are all highly recommended by us and represent some of the best on the market.
These were samples that graced our tasting table and provided great debate. The criteria for samples were; 100% Malbec from Mendoza, less than £15 and no older than 2010.
Before we get into the results of the tasting, first allow me to talk a little about Malbec and Mendoza. Legend has it that on April 17th (a day now celebrated as World Malbec Day) 1853 Argentine president Domingo Faustino Sarmiento ordered that Malbec vines were to be planted to bolster the Argentinean wine industry. However, Malbec was famous for hundreds of years before this – originating from Cahors in South West France it was wowing the likes of Peter the Great and Tsar of Russia back in the 17th century. Also, don't forget Malbec is one of five grapes used in Bordeaux appellations, so it's birthplace is unquestionably France. However through the tribulations of French wine history and the dog-eared determination of the South American's to make it their own, it's Argentina who has prevailed with the deserved reputation of producing the best Malbec in the world.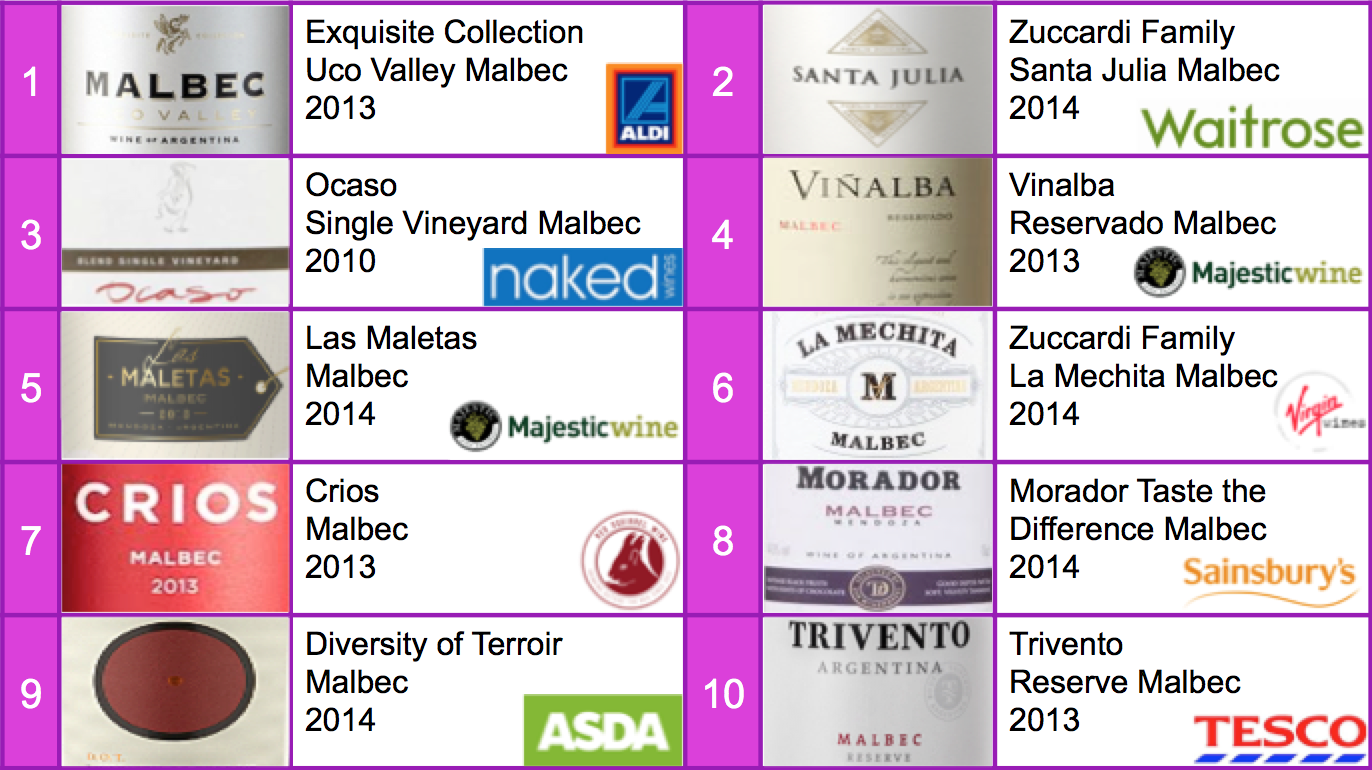 Mendoza is Argentina's most important wine region, nestled in the picturesque foothills of the Andes it's a dreamy location for winemaking. These days the abundant Mendocinian soils and Malbec are a perfect marriage and a legitimate world beater. There are a vast 33 thousand hectares planted with the cultivar there. That's staggering when you consider that there is 48k ha of Malbec planted across the whole planet. Just 5k in France, 38k in Argentina, 33k in Mendoza! And it's not just the scale of the production – it's the quality, versatility and consistency year after year that means this globally famous new world wine isn't going anywhere anytime soon.
Mendoza is split into four predominant wine regions, Luján de Cuyo, Maipú, San Rafeal and Uco Valley. True Malbec aficionados will be able to describe the varying styles of Malbec coming out of these regions and how the most gifted winemakers capture qualities of the terroir specific to sites. On the whole though you can expect a wine with lots of body, structure and tannin (especially when drunk young) showing flavours of stewed fruit often with earthy secondary notes and a touch of vanilla or chocolate. All delivered with a silky satisfying mouth feel. In the below write-up I've focussed on picking out the unique qualities of the wines, and the style of the wine, refraining from referring to the varietal hallmarks.
So without further ado, here are the highest scoring 10 Malbecs from our tasting and below is a write-up for each wine.
#1 Exquisite Collection Malbec 2013

What a big surprise this was. I've talked about the quality of Aldi wines previously, and I've always been quick to attest that they perform above their price point, but even I was surprised that this came out victorious over many wines which were over twice its price. There was a bashful rush of supercharged flavour and it was full bodied with it, delivering black fruits and cocoa powder to every corner of the mouth. The tannins were big, but integrated so it was robust but polished with no harshness to be seen. Whilst other bottles scored higher for some of the panel, this hearty, drinkable wine won everybody over with consistently high scores across all the sheets. Any doubters should pick up a bottle – just make sure to give it a few hours to breath.
I'm a fan of the impartial service that wotwine provide to supermarket wine buyers. Their team of tasters value this wine to be worth £8.50, but we think it's worth even more than that.
Available nationwide from Aldi for £5.99
#2 Santa Julia Malbec 2014

Santa Julia is a domestic and international label owned by the well-respected Zuccardi family who first planted in 1963 and have a rich history of revolutionary, sustainable, quality winemaking. The wine showed great balance during the tasting managing to bridge stewed and fresh fruit with earth and spice. A full spectrum of flavours with noticeable development from mid to back palate, gave an interesting and high quality Malbec with a lingering finish. It felt like it was structured to be enjoyed now, whereas some of the other 2014's felt too young.
Available here from Waitrose Cellar for £7.99
#3 Ocaso Single Vineyard Malbec 2010

This was one of three 2010's and it was very apparent here showing enormous complexity and layers upon layers of aged character. Distilling the groups collective scribbles to a concise tasting note was a struggle as everyone picked up on different flavours, which speaks about how angular and nuanced this wine is. Yes the emphasis is around a big mouthful of stewed dark fruits, but what's impressive here is super slow development as herbaceous, vegetal, metallic and savoury notes all unfold with feminine grace. The body is more chiselled and lean than many of the others. Not as emphatic or as drinkable as the two which beat it, but there's a real sense of craftsmanship about this single vineyard wine.
Available here from Naked Wines for £13.99
#4 Vinalba Reservado Malbec 2013

A wine produced by Bordeaux born Hervé J Fabre who has been heavily involved in paving the successful path of Argentine Malbec since the earlier 90's. The fruit comes from 15 year old vines 950m above sea level in the heart of the Uco Valley where our winning wine also hails from, and they are comparable in style. This wine attacks from everywhere engulfing the senses with its richness and strength. It's 14.5% ABV and the alcohol was definitely detectible in the toasty finish, but not the point of being overbearing. Let's call this one Meat Loaf – it's a heavyweight rockstar with quality high notes!
Available here from Majestic Wine for £13.49
#5 Las Maletas Malbec 2014

This bottle was the first out of the blocks and came as a surprise as it wasn't very Malbec-like. In a blind tasting I may well guess at an expensive Carménère. Almost completely void of fruit, the emphasis is leather, spices and crumbly earth. The finish is very drying pronouncing the restrained flavours and smoky nature. The nose on this was heady and more interesting than any other wine. Fantastic to sniff at, and I'm sure it is this sensory satisfaction which would have earned it extra points.
Available here from Majestic Wine for £10.49
#6 La Mechita Malbec 2014

The second wine in our top 10 (see #2) which is made by the Zuccardi family, this Virgin Wines exclusive is wonderfully crafted and very hard not to like. We found it to be super juicy and super drinkable showing all the flavour markers and stylistic hallmarks that make Malbec so popular. I saw a video where Matthew Jukes called this 'the Daley Thompson of the wine world' referring to it's versatility to pair with anything, and we completely agree with him.
Available here from Virgin Wines for £10.99
#7 Crios Malbec 2013

The Crios range of wines are the entry level offerings from the highly respected Susana Balbo – the first female enologist in Argentina and three times elected President of Wines of Argentina. It showed hints of the intensity we saw in the big, blockbuster wines, but it retains a sense of elegance aided by ripe fruit notes, brown sugar and baking spices. Powdery tannins and silky soft mouthfeel further add to it's charm and grace.
Available here from Red Squirrel Wine for £13.99
#8 Morador Taste the Difference Malbec 2014

I've long been an advocate of Sainsbury's Taste the Difference white label range. Their Marlborough SB (produced by Yealands) finished in the top 10 of our Marlborough blind tasting, and now this Malbec (produced by La Casa Del Rey) repeated the success showing very well at our tasting. Punchy and concentrated, but very approachable with it. After a few sips it really grows on you with its low acidity, plump body, balance of flavours, cassis kick and charming character. High quality yuminess.
Available here from Sainsbury's for £8.00
#9 Diversity of Terroior Premium Malbec 2014

This ASDA exclusive is effectively a white label offering produced by Bodegas La Rosa. They've been producing wines from multiple regions across Argentina since 1892, so they know a thing or two about the diversity of terroir. This wine took no time to make an impact, with a grand punch of black fruit upfront. The mid palate introduces some raisin and dried fruit, which is uncommon in young Malbec. There's a definite lick of vanilla and cocoa mingling amongst all the flavours. A generous, expansive wine which is gladly rotund like your cheery, overweight uncle.
Available here from ASDA for £7.99
#10 Trivento Reserve Malbec 2013

The final wine to make the cut was this radiant, award winning wine which has been a main stay on supermarket shelves for many vintages due it's consistency and crowd pleasing character. There were no stand out remarks recorded, just solid scores right across the board for what is a well-produced Malbec that will pair brilliantly with steak, or be just at home next to any grilled red meats.
Available here from Tesco for £8.99