HANDCRAFTED and FUN
Deep Eddy Vodka is handcrafted in small batches at their new 99% waste-free distillery just outside Austin with Texas spring water and corn that is column-distilled ten times and charcoal filtered. They take making good vodka seriously, but we can promise they never take themselves too seriously. We urge you to dip your toe in some of their offerings. Like any true Austinite, Deep Eddy Vodka is deeply passionate about music and the way it brings people together for carefree, good times. Find Deep Eddy in a tricked out 1950s Spartan Trailer at music festivals around the country.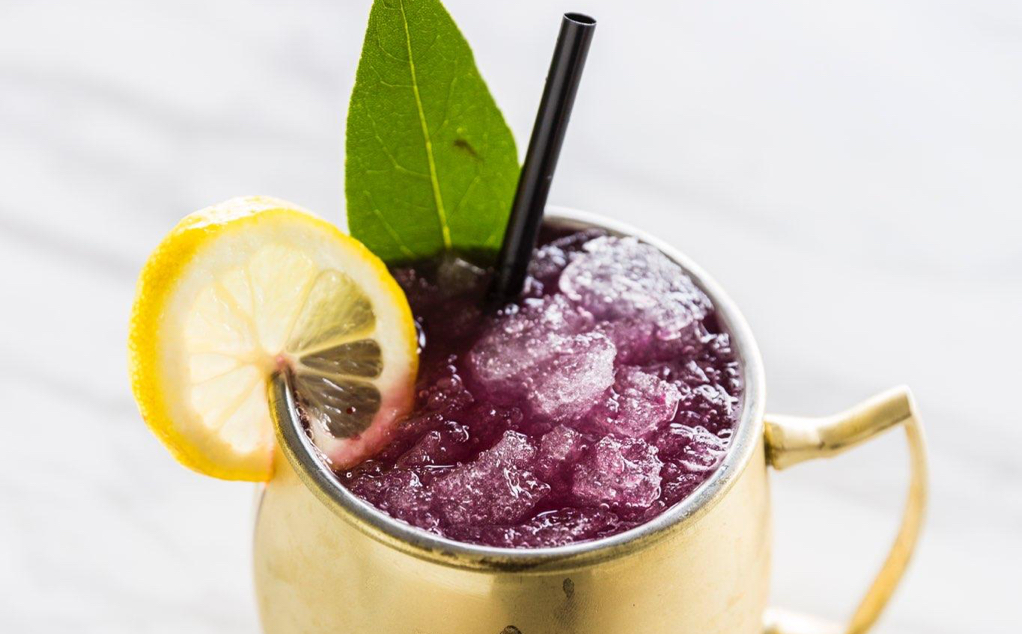 Blueberry Ginger Mule
Ingredients: 
1 oz Deep Eddy Lemon Vodka

1 oz Deep Eddy Straight Vodka

2 oz Blueberry cordial*

Goya Ginger Beer

Directions: Combine all ingredients with in a copper mug filled with crushed ice.

*Blueberry Cordial:

1 lb. frozen blueberries

Zest and juice of 1 lemon and 1 orange

2 cups sugar

1 tsp vanilla

¼ cup white vinegar
Method: Combine all ingredients in saucepan over medium heat until sugar is dissolved and blueberries burst. Cool and strain.
ART and INSPIRATION
Crystal Head AURORA is filtered seven times, three of which are through over 10,000 Herkimer diamonds. It is crafted with high quality English wheat and its flavor offers a drier, bolder, and spicier vodka. Crystal Head AURORA comes in a beautifully crafted bottle, which is an accurate rendering of the human skull. With an iridescent finish, the bottle was designed in celebration of the most vivid aerial phenomenon in the world – 'the Northern Lights.' To create the aesthetic of the lights' mysterious visual properties, the skull shaped bottle is first placed into a sealed chamber and electrically charged. Two metals in powder form are activated seven times and released in the pressurized chamber. The powder is drawn to the electrically charged bottle – completely coating it. Then heated at high temperature, the powder melts, creating a uniquely iridescent metallized finish in which no two bottles are alike.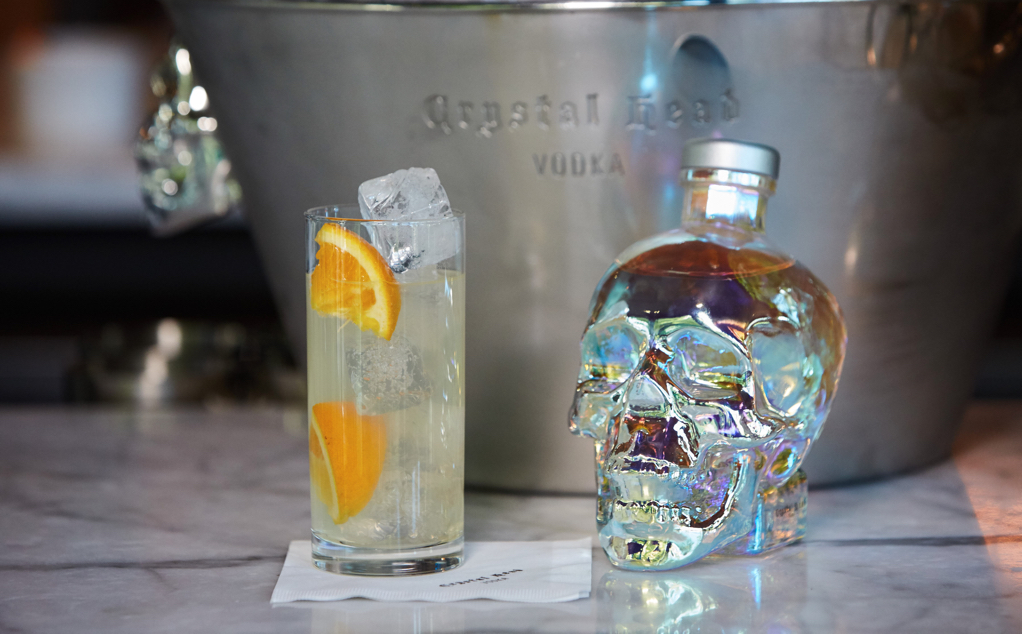 Smoked Mule
Ingredients:
2 oz Crystal Head AURORA

4 oz Lemonade

3 oz Fever Tree ginger beer

Smoked orange wedges
Method: Add Crystal Head AURORA, lemonade, and smoked orange wedges into a shaker with ice. Shake very well then pour into a tall glass
NO FRILLS and SUSTAINABLE
The award-winning Koskenorva Vodka embodies the true spirit of the village in which it's made in – Koskenkorva, Finland.
Exceptional Spring water, local barley, and the dedication of farmers is what makes Koskenkorva simple, pure, no frills, and straight to the point.
They just want to make good vodka. It's a sustainable spirit with it's own bio-energy power plant that has helped reduce the plant's carbon dioxide emission by 56% and uses the barley grain in FULL.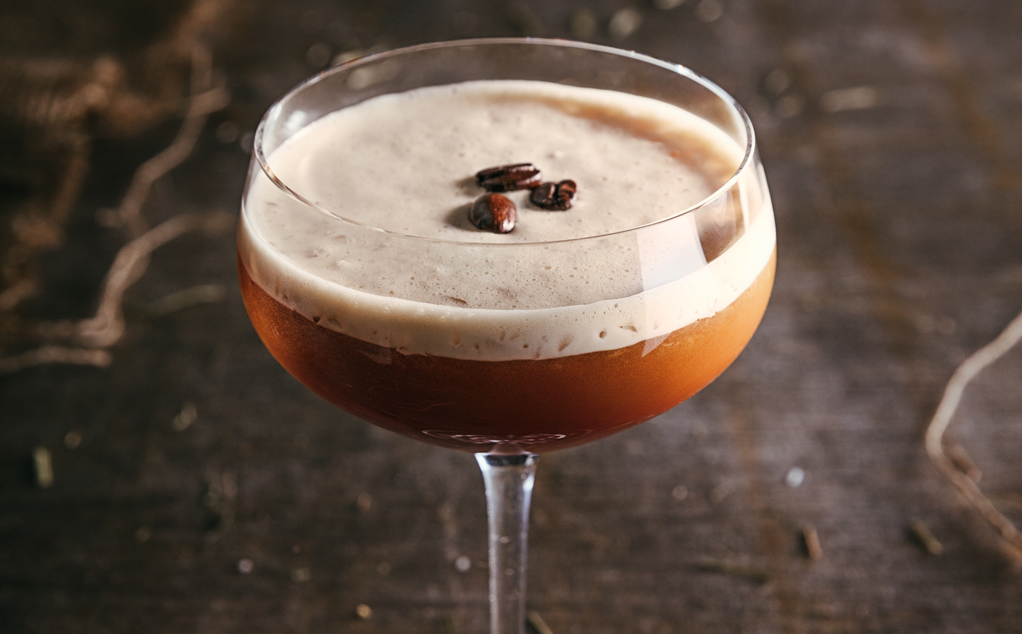 Coffee Martini
Ingredients:
1.5 oz Koskenkorva Vodka

0.5 oz Homemade Recycled Coffee Liqueur

0.5 oz. Brown Sugar Simple Syrup
Method: Measure ingredients and shake vigorously. Fine strain in a cocktail glass and serve.
Recycled coffee liqueur: After brewing coffee, take the grounds and add them to 2 cups of vodka. Let sit for 12 hours and filter 3 times. Add 3.5 ounces and stir until sugar is dissolved. Bottle in a heated bottle and keep in a cool and dark place. Keep for 6 months.
SIMPLE and AMERICANA
Since 1857, the Seagram's brand has been one that consumers know and trust.  Seagram's Vodka with nine expressions of American made vodkas, continues to encompass American heritage and values and is a reliable choice of quality and taste. Produced with high quality American grain with a clean, extra smooth taste, Seagram's Vodka allows for drinking straight up, on the rocks, or in your favorite cocktail.
Watermelon Smash
Ingredients:
1oz Seagrams Watermelon Vodka

1.25oz Templeton Rye

.75 oz Demerara syrup

2 lemon wedge

6 mints
Method: Muddle the lemons/mint and syrup. Add the liquor/light shake and dirty dump in rocks glass.
Glass: rocks glass
Garnish: heavy mint sprigs