The Bluebird Cocktail Room debuts its spring cocktail menu, an homage to part two of Erasmus Darwin's poem, The Botanical Garden titled The Loves of The Plants in which Darwin romanticizes the invaluable system of botany. The Bluebird explores this topic by presenting 18 imaginative cocktails based in botanic, floral, and herbal ingredients.
Each drink's name is derived from a part of the poem and each ingredient in those drinks is listed by its binomial name. Cantos 1-4 of The Love of The Plants are woven throughout the menu allowing guests to linger over excerpts of a 200-year-old literary masterpiece while deciding what to drink. On the menu, guests will find Rival Love, house tea service featuring a custom blend of Linden Tea and other botanicals served alongside French dessert wine(Pineau des Charentes); Daedalian, an intensely refreshing libation made with dandelion infused Tapatio Reposado Tequila, Suze Liqueur, Persian lime, dandelion and burdock bitters, and sugarcane; She Trembles, a deep and delicate mixture of Mizu Green Tea, maraschino liqueur, lemon, sugarcane, and plum sorrel; and Vain Desires, a vodka, house-fermented cucumber, Persian lime, grapefruit, elderflower, and sugarcane concoction available on draft and garnished with edible borage flowers that taste of cucumber sourced from Karma Farms in Monkton, Maryland.
Assertion Nasturtium flowers hang on the back bar where books once lay, of which The Bluebird's talented bartenders will handpick some garnishes creating an even higher quality experience for guests. The intimate radiance of candlelight maintains The Bluebird's unrivaled atmosphere but to ensure guests can really read the menu, the bar will soon incorporate a QR Code that guests can scan with their iPhones and allow them to read the menu assisted by the glow of their phones. The full menu is listed at the bottom of this press release and available online.
The Bluebird Cocktail Room's spring menu is now available. Visit The Bluebird Cocktail Room at 3600 Hickory Avenue, Third Floor, Baltimore, Maryland or www.thebluebirdbaltimore.com. Follow The Bluebird on Instagram @thebluebirdbaltimore.
Here are some of Drink Me's favorites from the list.
Soft Notes
Cocchi Americano (vitis vinifera),

Persian Lime (citrus latifolia),

Carbonated Water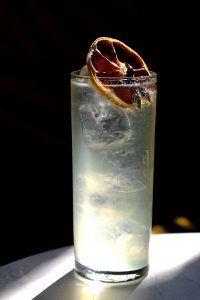 Botanic Muse
Champagne (vitis vinifera),

Distillery Lane Black Currant Cider (malus pumila;ribes nigrum),

Genepy le Chamois (artemisia),

Sugarcane (saccharum officinarum)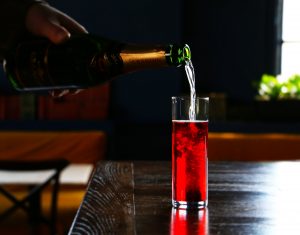 Rival Love
House Tea Service (Camellia sinensis),

Served alongside Pineau des Charantes (vitis vinifera)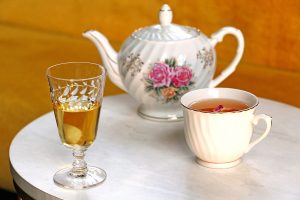 Vain Desires
Vodka (zea mays),

Fermented Cucumber (cucumis sativus),

Citrus Latifolia (persian lime),

Grapefruit (citrus paradisi),

Elderflower (sambucus nigra),

Sugarcane (saccharum officinarum),

Borage Flower (borago officinalis)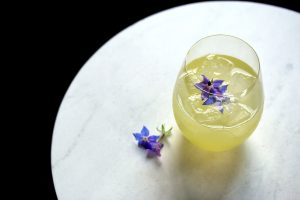 Point Your Stings
Fords Gin (juniperus),

Persian Lime (citrus latifolia),

Spearmint (mentha spicata),

Sugarcane (saccharum officinarum)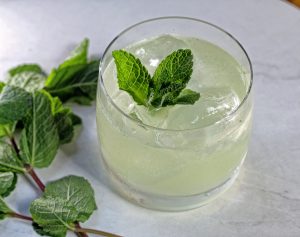 She Trembles
Mizu Green Tea (hordeum distichum),

Maraschino Liqueur (prunus cerasus var. marasca),

Lemon (citrus limon),

Sugarcane (saccharum officinarum),

Plum Sorrel (rumex)
Daedalian
Tapatio Reposado (agave tequilana),

Suze (gentiana lutea),

Persian Lime (citrus latifolia),

Dandelion (taraxacu officinale),

Sugarcane (saccharum officinarum)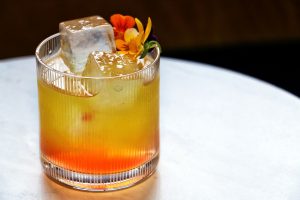 Blooms of Spring
Chopin Rye Vodka (secale cereale),

Green Chartreuse (130 secret botanicals),

Beet Molasses (beta vulgaris),

Persian Lime (citrus latifolia)
March of Time
Fermented Pineapple (ananas comosus),

Fords Gin (juniperus),

Sage Syrup (salvia officinalis),

Persian Lime (citrus latifolia)
Absinthe Drip