You thought you didn't care that August 3rd is National Watermelon Day until we delivered to you 10 mouthwatering cocktails that will explode your melon. These are quite possible the most refreshing recipes we've ever published. Pick your 'one in a melon' favorite, and live it up this Friday.
NEW YORK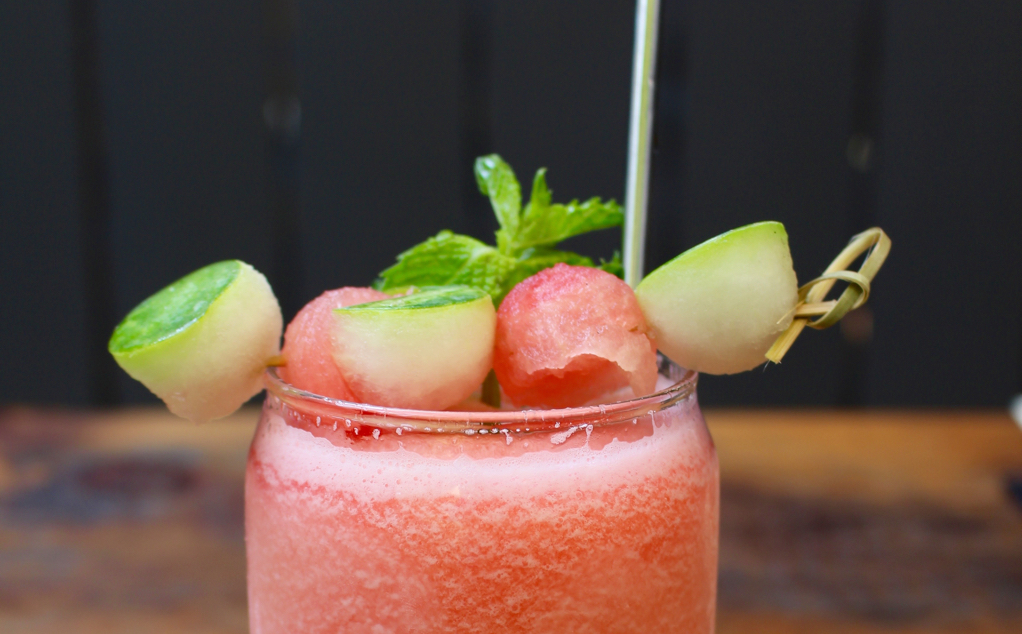 Melony Griffith from Midnights
Ingredients:
1 oz Mint simple syrup

1.5 oz

Simple Vodka

, which donates 20 meals per bottle produced to U.S. hunger relief organizations

0.25 oz Fresh pressed lime juice

Splash of fresh pressed ginger

3 oz Watermelon juice
Method: Combine all ingredients and mix together before refrigerating for 20 minutes. Stir again before pouring over ice and garnishing.

The Gallagher from Jimmy at The James
Ingredients:
2 oz.

Tito's Handmade Vodka

0.75 o. Agave

0.75 oz Lime

1.5 oz Watermelon uree

Ginger Beer

Fresh watermelon
Method: After combining the first four ingredients into a highball glass with ice, top with Ginger Beer and garnish with the fresh watermelon.

Watermelon Refresher at Oceana
Ingredients:
2 oz S

quare One Cucumber Vodka

2 oz Fresh watermelon juice

0.5 oz  Lemon

0.5 oz Agave nectar (or to taste, if the watermelon is super sweet)
Method: Put all ingredients in a shaker with ice. Give it a hard shake, and strain into a martini glass. Garnish with a small watermelon wedge.
LOS ANGELES

Spicy Watermelon Margarita from Hudson House
Ingredients:
Method: Muddle 4 x 1 inch pieces of watermelon with 2 thin slices of serranos.

Ingredients:
1.5 parts

Ayate Reposado Tequila

0.5 part

Grand Marnier

0.5 part Organic locally sourced honey from Santa barbara

3 fresh Watermelon cubes 2″x 2″

1 part Fresh squeezed lime juice

1 Basil leaf

1 Cilantro leaf
Method: Muddle watermelon, lime juice, basil, and cilantro in a mixing glass. Top with ice. Add all remaining ingredients, and shake and strain over ice. Garnish with 1″ watermelon cube and Chile salt rim. Serve in copper pot tin. Chile salt rim: equal parts sugar, pink Himalayan salt, Chile powder, and lime powder.

Ingredients:
Method: Shake with a sprig of mint and strain in mule cup over fresh ice, finish with ginger beer, garnish with watermelon if available, mint, and lime
DALLAS

Ingredients:
0.75 oz Fresh Lime

0.5 oz Mineral Simple #4

2 oz Thumper Juice

1.5 oz

Tanqueray Gin

1 dash

Angostura

2 drops Mineral Saline

2 drops Electric Holy Basil (dehydrated basil infused with absinthe via sous vide)
Method: Combine all ingredients and shake and then strain into a highball glass. Top off with club soda and garnish with a watermelon spear.
CHICAGO

Walk on Water from Cindy's
Ingredients:
Method: Combine all ingredients in a shaker tin and shake vigorously over ice.  Double-strain into a double-old fashioned glass and fill with ice cubes.  Garnish with a lime wheel and enjoy!
*Tomato Water: Blend 1 pint of cherry tomatoes with .5oz of thyme sprigs, .5oz of basil leaves, and 1.5oz of apple cider vinegar.  Once blended finely, place solution in a large strainer lined with cheese cloth and allow to slowly strain overnight in the refrigerator.  This will create a clarified water that evokes fresh and vegetal brightness.

Ingredients:
Method: Shake all ingredients together over ice. Strain into a Collins glass. Fill glass with fresh ice and garnish with the sliver of watermelon.
*For Watermelon Syrup
3 lbs Watermelon

2L Simple syrup

Weigh out three pounds of fresh cut watermelon and blend with two liters of simple until mixture is liquid. Strain out into plastic container and store for up to five days. If less amount is desired then just use 3:2 ratio for desired amount
BALTIMORE

Ingredients:
1.5 oz

Bimini Hopped Gin

2 oz sour watermelon (we add citric and malic acid to have the typically sweet watermelon juice to mimic a citrus juice without changing the flavor)

0.5 oz

Plymouth Sloe Gin

0.25 oz

Aperol

Basil drizzle
Method: Combine all ingredients except the basil drizzle; shake together with ice. Add the basil drizzle to the bottom of an empty glass, fill with ice, and the strain the contents of the shaker over the ice.