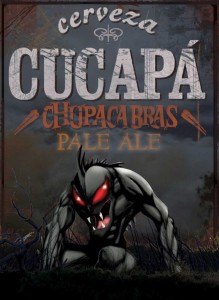 Beer, the Colonial Mexican way
Long before Corona implored you to find your own beach, and hundreds of generations before the world's most interesting man drank Dos Equis, the Incans brewed South America's native beer: chicha. It's still popular around Latin America today, but rarely made just like great-great-great abuelita used to make it, by chewing on corn kernels, wherein enzymes in her saliva began the malting process in the maize. Yeah, you can think of it as spit beer.
About five centuries later, a more appetizing-sounding drink called pulque came along farther north among the Aztecs. Pardon the oversimplification, but fermented agave sap goes into pulque, but when distilled it becomes mezcal or tequila, just as fermented barley mash becomes beer which, distilled, makes whiskey.
So who came up with Mexican-style beer, the kind we stock up on whenever there's a heat wave? An Austrian!
While malt beverages weren't introduced to Mexicans until the Spanish conquest in the sixteenth century, the predominant style brewed in Mexico today is actually a Vienna Lager. And you'd have to look high and low to find a Viennese brewery that makes it.
Three centuries after the Spanish arrived, that empirical leader Napolean orchestrated the French Intervention in Mexico, a.k.a. the Franco-Mexican War. In a delicious twist of irony, French troops were defeated at the Battle of Puebla in 1862 shortly after the war began, and it's this Mexican army victory that took place on May 5 from which we get Cinco de Mayo, the day even non Mexican beer fans festoon lime wedges in apertures of bottles of Corona or cans of Tecate and tomé, tomé, tomé. But had the war ended there, we still wouldn't have had those beers.
Two years later in 1864, after the tides had turned in the French's favor, Napoleon appointed an Austrian royal named Maximillian Ferdinand, henceforth Maximillian I of Mexico, to be the Mexican emperor. The gig was short-lived, as he was executed a mere three years later. But his reign during this "Second Mexican Empire" yielded one tasty policy change. As part of a wave of German and Austrian immigration, Max I brought with him his homie brewers, who set up breweries to recreate the new lager style beers they enjoyed back in the old country, but frequently utilized a newer roasted malt called Vienna malt. This light-roasted malt created the style known as Vienna lager. Having said that, there's the straw-colored Modelo Especial (and note that Mexican beers usually are made lighter in the body as well by adding a portion of corn) but there's also mid-range Dos Equis Amber and darker Negra Modelo, all variations on the Vienna lager.
Mirroring the American beer industry's consolidation throughout the twentieth century, Mexico's beer industry also has two primary corporations. We have Budweiser (AB-InBev) and MillerCoors (remember, they merged); they have Grupo Modelo and FEMSA. Their two dominate about ninety percent of the marketplace. And just like us, our neighbors south of the border are developing a craft beer culture–and these ain't no maize beers.
Perhaps the largest concocter of craft cerveza is Cervecería de Baja California, home of the Cucapá brand (similar to how Boston Beer Co. makes Samuel Adams brand beers). Their flagship Chupacabras Pale Ale is strangely more available here in los Estados Unidos than en México. In addition to this fantastic beer named after the mythical Mexican goat-eating beast, their other beers have playful names like La Migra Imperial Stout and Greencard Barleywine, but the beers themselves are muy serious. What beer geek wouldn't kill for a bottle of their barley wine aged in tequila barrels? Now that's Chicano terroir.
During the recent World Beer Cup hosted in San Diego, beers from fifty-four countries competed head-to-head in various categories. Ironically, no Mexican brewers medaled in their own Vienna-style Lager category, but they did in the Chocolate Beer category. Beating out the highly-respected Alpine Brewing from San Diego (bronze: Odin's Raven) was Házmela Rusa Imperial Stout from Cervecería La Chingonería in the capital of Mexico City. Salud!