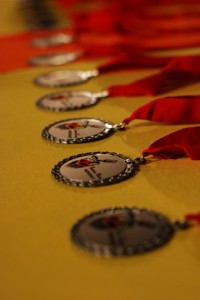 And The Winner Is…
by Ford Mixology Lab, New York
With regards to bartenders, what does it mean to be the best?  The best cocktail, best performance, best timing: these are all factors that can be judged.  However, tending bar and making cocktails is an art form — one that has many facets.  Some nights when we hop behind the bar, it feels as though we're being tested by our patrons.  "Do you know what's in a Sazerac?"  "Can you remember all that?"  "What's an Amaro?"  Certainly, there are moments of stress in which everyone can get a little frazzled, but for most bartenders, being behind the bar is a well-choreographed dance.  We're sure that even the most seasoned veteran would agree that making cocktails for a panel of judges is a much different experience from making cocktails for guests at the bar.  What does it mean to be the winner of a competition, and does winning really make one the best?
When we were budding bartenders starting out in San Francisco, we found ourselves seated at our favorite haunt next to a cocktail enthusiast, someone fully consumed with cocktail culture who prefers to sit at the bar instead of work behind it.  Sensing our interest and neophyte industry affiliation, she struck up a conversation about what, and who, she knew. "Don't you know so-and-so?  He was named 'World's Best Bartender' last year!"  What struck us the most about our conversation was not so much who, or what, she knew (which was impressive), but it was the fact that there had been named a 'World's Best Bartender.'  Who was this person?  What had he done to earn such a high title?  And who was the authority bestowing such prestigious awards?  The answer was simple: he had earned the title by winning a cocktail competition.
Competitions are a regular occurrence in the spirits world.  Often, liquor companies hold these contests to identify new talent and gain access to original recipes by asking entrants to develop cocktails using their brands.  To break up the monotony and entice bartenders to enter, each company or brand comes up with a creative way to compete for a coveted prize or title.  But what does winning really mean?
From your barstool, you've probably judged your very own bar tending competition:  "Wow, she's fast!"  "He knows a lot about cocktails!"  "This guy really sucks!"  The advantage that you have while observing technique and talent on your chosen perch is that you're seeing all of the pieces of the puzzle in context.  You're watching that bartender, in his or her environment, making drinks and interacting with guests when he's not aware he's being judged.  Other than this glimpse, how on earth could you measure the skill of an individual with one isolated performance?  Competitions attempt to do just that.
It seems there is a specialized competition for every type of bartender.  There are those for the adventurous: one in particular, called the Cocktail World Cup, involves competing in a series of cocktail competitions, in New Zealand, all while doing physically challenging activities such as white water rafting and bungee jumping!   There are those for the charitable: last year, a group of Philanthropic female bartenders founded Speed Rack, a speed bartending competition for women to benefit breast cancer research and awareness.  And there are those for the studious: to enter Diageo's World Class Competition, bartenders must study three courses detailing the history of cocktails, completing a quiz in each with a passing score before submitting a video of themselves creating an original recipe.
And then there are practical assessments that seek to do nothing more than give credit where credit is due.  Recently, we were invited to participate in a test administered by Tanqueray Global Brand Ambassador, Angus Winchester, which promised to prove who was the best bartender.  Created by an Australian company called Barmetrix, the test seemed simple.  All those participating were given four precise recipes to execute as quickly and accurately as possible.  What was the tricky part?  There was a time limit, the exercise was filmed, and the liquor bottles were weighed before and after to test pouring accuracy.  At the end, participants were presented with a scorecard, which showed accuracy, speed, and even the revenue that one could generate at that rate of speed and accuracy!
So, is the winner of a competition or highest scorer on an assessment really the best bartender?  Does working the fastest and most accurately make you the best, or are there more parts to the equation?  Let's try an exercise.  Close your eyes and picture the best cocktail you've ever had.  Why was it perfection?  Was it made as quickly as possible?  Was it made using the best technique?  Was it a well-executed classic or was it an innovative use of flavors?
Now close your eyes and picture the best bartender you've had the pleasure of sitting in front of.  Why were they the best?  Were they engaging, entertaining, and  funny?  A great listener?  Or were they just intuitively aware of your desire to have them present when you needed them to be present and absent when you needed privacy?  Was this the individual who crafted the cocktail that you were just picturing?  Or did you value this individual most for his or her performance?  Do you even remember the cocktail they made for you?  Perhaps there's a key piece that is just too difficult to quantify or calculate.
The younger generation of barkeeps often admire the older generation for their attention to the guest experience, sometimes at the expense of modern technique.  Could an old dog beat a young buck in a cocktail competition based on speed, agility, or current innovations?  Perhaps not.  But the old school definitely knows how to treat 'em. We visited Bemelmans Bar in New York and met the legendary Tommy Rowles, a bartender who has been a staple behind that very bar since 1958.  Tommy was eighteen when he began and now, fifty-four years later, he can still be seem shaking cocktails and charming guests.  His hours have changed — he long ago traded night shifts for days — and his memory may not be quite what it used to be, but what hasn't changed is his ability to make each guest feel special.  Bartenders like Tommy are why people go to bars.  Aren't they winners, too?
One of our mentors once said, "There's no objective best bartender, just like there's no objective best song."  Well, if you put it that way!  Think of all the great songs in the world.  There's a time, a place, and a mood for every single one of them.  How we see the world is a product of our perceptions, a conglomeration of tastes and past experiences.  In the world of cocktails, everything is subjective and often situational.  Tastes change.  Palates change.  What's new eventually becomes old, and everything old becomes new again.  This is not to devalue competitions or their merits; the winner of a competition deserves our congratulations for a job well done.  But to say someone is the best in the world? That's like asking you to choose Madonna or Mick, Michael or Whitney, Lennon or Clapton.  And that's just not fair.