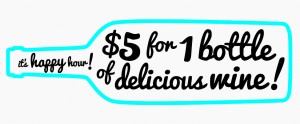 Like drinking wine? Of course you do!
Get a $5 bottle delivered by bike!
We're working with REWINERY, the amazing new company that delivers your wine right to you! REWINERY is having a wine happy hour for a $5 bottle (delivered), but you have to move quickly, there are a limited amount and you've got to do it today.
The bottle will be a surprise, but expect nothing less than a delicious wine at a fantastic price. Get your's NOW from the special offer section of the website. The delivery time will be between 2pm-5pm today.
AND….
You can sign up HERE to get $10 to your future purchases.