A couple of weeks ago we headed to Half Moon Bay, a short 40 minute drive from San Francisco. Thanks to global warming (or at least the Bay Area microclimates), it happened to be one of the warmer days and the drive down Highway 1 was stunning. We took a little stroll along the docks near Half Moon Bay before heading to Half Moon Bay Brewing Company. The brewpub has been around for years and is an icon in the area. It's a hub of fresh seafood, delicious brews, and is bringing the "pub" back to it's roots as a community public house.
We opted to dive into their new cocktail menu first to whet our palettes, complete with fresh fried calamari, battered artichoke hearts, and several innovative egg rolls. The menu is extensive with everything you can find in the ocean and several meat dishes. Though the house specialty is a Portuguese Fisherman's stew (think special Cioppino), since it's Salmon season, I opted for a Salmon dinner. The restaurant is running a special salmon program – you can choose to have your salmon (or Sea Bass) grilled, tempura fried, seared, poached, blackened, or encrusted. Desserts range from classic cheesecakes and key lime pie to their signature beeramisu (a tiramisu made with their own stout).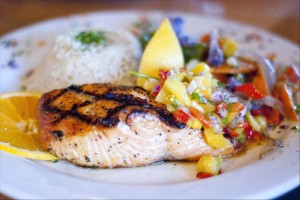 All the food pairs with one of their many beers, but if you're the indecisive type, you can opt to get a tasting of all of them – from a Hefeweizen (with wonderful fruity, banana notes), to a large and malty double IPA, to their classic Amber and Pale Ales. The brewery is still relatively small scale, but is getting creative with their brews. Even since I was there last, over a year ago, Master Brewer Kirk Hillyard is mixing up several more Belgian style beers and is playing around with a barrel aged Quadruple and several other beers aging in wine barrels. Their beers have improved by leaps and bounds and Hillyard even said they're constantly improving their recipes and creating new ones.
The Brewery is known for as a community hub – they host "Brews and Views" on the back patio and never cease to bring politics to the table. They are running their yearly "Alection" brews campaign – one ale with a blue label and smiling Obama, and the other with a red label and Romney on the label.  Or you can even opt for the "SuperPACK" of four 22oz bottles of the tasty ale – two Romney and two Obama labels (with commemorative coasters).  Though you're likely to vote with your mouth and opt for the one with the face of your favorite candidate, the dirty secret is that the bottles are actually the same on the inside. Just like most politicians.
If you want some more information on Half Moon Bay Brewing, check out their menu and upcoming events at www.hmbbrewingco.com