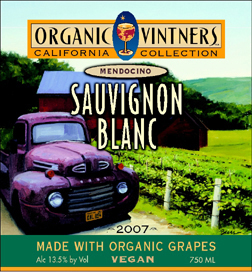 Summertime means a number of things. Warm weather, sunshine, seafood, and most importantly: white wine. When the hot rays are beating down from above, you need a refreshing alcoholic beverage to provide a pleasant buzz (obviously) without being so heavy that it knocks you out. After all, you can burn really easily when you pass out on the beach — even in the Bay Area, where it's known to get misty from time to time. In the heart of San Francisco, people like to keep things local and organic, and thankfully there is an overwhelming abundance of both.
Enter Organic Vintners California Collections 2007 Sauvignon Blanc. Boasting 14.2% ABV, this crisp, clean juice has the floral aromas of the season: citrus, tropical fruit, bright rose, and lavender. It is the perfect accompaniment to freshly grilled trout or salmon. It also commonly regarded as a great wine to pair with sushi. Pack it in a cooler of ice, bring a few plastic cups along for the ride and it's an instant party  wherever your path leads. Personally I've always preferred full-bodied reds to their more supple white counterparts, but when you're working on your tan on the warm summer sand there's really no choice as to what varietal is the most appropriate. Sauvignon Blanc might be light-bodied, but it by no means light on flavor. Take a deep breath of its gentle lemony nose while listening to the waves gently lap upon the shoreline and you know that summer is officially here.
Bottled in Ukiah, this lusciously light liquid comes from one of the under-heralded wine centers of Northern California. And 2007 Sauv Blanc's are drinking well right now, as it was a ripe and flavorful vintage for this green-skinned grape renowned for its crisp, elegant finish. Best of all, it really isn't all that pricy at around $20 per bottle. I could go on and on about the joys of summer in the Bay Area, but at the end of the day, talk is cheap. I'd rather get out to the beach for a sunset over the Pacific with a nice bright white and some freshly-sizzled seafood and let the experience be worth countless words.