While taking advantage of an unusually warm summer day in this city, we headed to La Mar – a staple of San Francisco, and a culinary (and cocktail) gem that we need to sometimes be reminded to visit every once in a while. Peru has always had interesting ties to San Francisco. Back before the gold rush, Pisco was imported to our fine city and shaken up in cocktails not far from where we sat down to have dinner. Located along the Embarcadero, the Peruvian hot-spot would have been close to where seamen offloaded their goods from Peru over 150 years ago. La Mar (now managed by Joselino Solis) continues to be a pisco haven that helps give San FranPisco its name. With locations across the world, from Santiago, Chile to Bogota, Columbia to Lima, Peru, La Mar's San Francisco location continues to shake up some amazing cocktails to compliment one of the most sweeping views of the bay.
The restaurant and bar recently kicked up their menu – changing things a bit while remaining true to its Peruvian roots. The lead chef, Diego Oka (who is only 29 years old), is a native Peruvian with Japanese ancestry. His expertise shines through and makes La Mar (meaning "the ocean" in Spanish) a seafood-lovers paradise. Staying true to its homeland, La Mar flawlessly highlights Peru's two largest industries — corn and potato. With an extensive ceviche menu, we started the night off with the Ceviche Clasico, a fresh halibut ceviche marinated in leche de tigre and served up with red onion, habanero and choclo (large Peruvian corn kernels). This paired deliciously with a classic Pisco Sour (go make one at home: pisco, lime juice, simple syrup, egg white, and bitters).
The bar is headed up by pisco mastermind Enrique Sanchez, who has been making pisco cocktails since he was 14 (but we won't tell anyone).
My personal favorite dish of the evening, the lomo saltado (succulent beef tenderloin sautéed in onions and spices and served over fried potatoes and rice) accompanied alongside a peruvian mule (a great spin on the Moscow Mule), with pisco, citrus juice, ginger beer and bitter. The cocktail menu extends your palate to mix pisco with spirits I would have never thought of together in the same drink. The bar is headed up by mastermind Enrique Sanchez, who has been making pisco cocktails since he was 14 (but we won't tell anyone). He's pushing the limits at what it means to make a pisco cocktail. For all those whiskey lovers out there (I'm assuming that's all of us) look no further than the Equinox — reminiscent of a smoky Manhattan, this cocktail consists of pisco quebranta, Four Roses bourbon, crema de mescal, averna and bitters.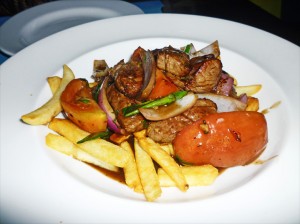 It paired quite nicely with the sweet and savory picarones, a traditional Peruvian dessert of pumpkins and sweet potato fritters with spiced chancaca honey.We steered towards pairing all of our dishes with cocktails, but the restaurant boasts a wide range of New World wines to compliment their dishes. We completed our meal with a Copon de Lychee, fresh lychees soaked in, you guessed it, pisco, topped with orange granite, lychee sorbet and pisco foam. The desserts are all creations of Pastry Chef Astrid Gutsche and infuse traditional basics with California flare.
And while a San Francisco warm summer day is as unpredictable as the the New York Stock Exchange, La Mar stirs up a consistently scrumptious treat that helps make you forget its 55 degrees in the middle of July. When it's not enveloped in fog, you'll find us on La Mar's dock patio sipping away on our Pisco sours. If you happen to be sailing your yacht by, swing by and join us. Behind La Mar there is a public doc where you can rope up (for three hours) and grab a drink.
Hasta La Mar…