Craft cocktails have become quite the craze these days. Unfortunately—cashing in on their overwhelming popularity—too a few bartenders have eschewed time-tested flavors in favor of flashy novelty beverages that might look good, but are nothing you'd want to try more than once. It takes a special kind of mixologist to stay ahead of the curve and offer patrons the newest combination of flavors that triumph both in style and substance. Jeremy Back of City Tavern (9739 Culver Boulevard) in Culver City, CA is my kind of mix master.
The ever-rotating menu at this classy L.A. gastropub requires him to always shake up a cornucopia of specially-mixed spirits that satiate the complex tastes of his artisanal-minded clientele. On a recent visit, I was wowed by numerous concoctions that he placed in front of me–many of which were unlike anything I've ever tasted before. The White Sand Beach, for example, is not your mother's Margarita. Using the smooth foundation of Tres Sietes tequila, Jeremy blends fresh lime zest with a strawberry-balsamic amalgam, producing a dangerously drinkable libation that is perfectly suited to summer sipping.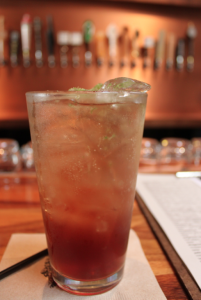 One of Jeremy's personal favorites is something he simply calls Breakfast. Starting with bacon-infused Dickel no. 12—a spicy, flavorful Whiskey out of Tennessee—he introduces the unlikely mixture of egg white, tabasco, lime juice and coffee simple syrup for a completely unexpected elixir. The spice of the world-famous hot sauce completely offsets the bite of the booze, and everything is all mellowed out by the pig-fat, dairy and citrus combination. You're left with a calming cocktail that has the tones of a morning meal but would be delicious at any time of day. In fact, it's a perfect drink to wash down the protein-rich flavors of a cheeseburger. And with the sensational bar bites offered at City Tavern—one of LA's premiere gastropubs—the pairing possibilities are seemingly endless. I went with the famous City Tavern Burger served with a side of bacon-laced brussels sprouts.
The only thing missing at this point was an ice cold brew. Thankfully with 22 taps that change multiple times per week, City Tavern had me covered. The full-flavors of meal demanded a beer that was similarly strong on taste. Moylan's Dragoon was just right—a dry irish stout that had all those familiar dark tones of coffee, and roasted barley, but with an unbelievably light-body. Much appreciated under the strong early summer sun that beats down on City Tavern's spacious outdoor patio. If you're looking to go indoors, make sure to reserve a Table-Tap booth where you can pour your own–the first bar in California to offer such a system.
When it comes to gastropubs, City Tavern is way ahead of the pack. A beautiful bar with an intelligent staff and an inventive menu, they don't just do things better; they do things smarter. Enjoy some sensibility with your spirits, during their daily 'hoppy hour' or anytime, really. Have your bacon-infused cocktail and drink it too.