The 16th annual Boonville Beer Fest made its mark on the quaint Anderson Valley this past weekend. From what I can remember, it was an unparalleled day of epic drinking. As an avowed aficionado of craft brews, I am somewhat ashamed to report that this was my first go-round at the sud-soaked celebration. Needless to say, I will NOT be missing it again… ever.
The event kicked-off shortly before 1PM on Saturday, as hordes of beer-lovers from across the state descended upon the green pastures of the Mendocino County Fair. Several large tents were setup throughout the landscape, each one providing countless taps of microbrewed bliss. Taking advantage of my early arrival, I wanted to make sure to enjoy some of my favorite Russian River beers before their lines inevitably swelled to preposterous proportions.
After a few swills of the peerless Pliny the Elder Double IPA and their lip-smacking Supplication sour, I was ready to engage in the most alluring joy offered at this festival of unsurpassed frivolity: exploration. With so many nanobrews and gypsy brewers on hand, you're guaranteed to come across a multitude of ales and lagers that you've never tried before and are likely to never try again. You got to make the most of such a unique experience and you DEFINITELY need to pace yourself. As many of the specialty brews you encounter here are upwards of 8% ABV, you're going to start feeling the heat sooner rather than later, especially with California's unfettered springtime sunshine pounding down overhead.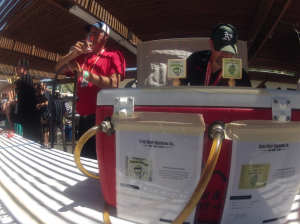 Thankfully there are more than a few ways to keep yourself in check throughout the action-packed afternoon: enjoy some local grub, like delicious deep-fried pickles, or sensational slow-cooked BBQ, rock-out to some live music being played at multiple stages throughout the venue, seek out shade from time-to-time (my personal angle of attack), and get your hands on some lower-ABV favorites such as stouts and porters that are still high on flavor.
I was thoroughly impressed by High Water Brewing Co.'s Campfire Stout. With the aroma of marshmallows and taste of s'mores, this dangerously drinkable 7.3% behemoth made me thankful that my campsite was within stumbling distance. Knee Deep Brewing Company out of Lincoln, CA also knocked me off my feet with their bitter blast of their award-winning Hoptologist Double IPA. As an unapologetic hop-head, it had all the flavor I crave in a pale ale. And as an obsessive drinker of craft beer in general, Boonville Beer Fest 2012 had only one downside: having to wait another year until it happens again!