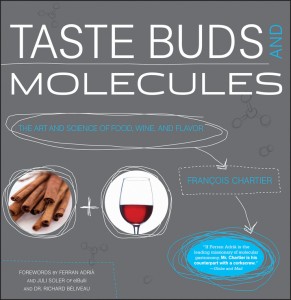 Taste Buds and Molecules: The Art and Science of Food, Wine, and Flavor
By François Chartier
Proper wine pairings for high-concept food have long been the realm of sommeliers relying on their mastery of classic pairings and, to an even greater extent, their highly subjective palates. Wine is ethereal, of the land and the people, and its connection with food is one that can only be pinpointed and perfected by a virtuosic conductor of flavors in a process of trial and error.
Well, the work that Francois Chartier has been doing in his lab, as well as in the elBulli kitchen with Ferran Adrià, turns that classic process on its head and throws it under the microscope. Chartier starts with a wine, breaks it down to volatile molecular components, and pairs it with flavors and foods possessing those same components. This field of research, called "food harmony and molecular sommellerie," informs the makeup of Chartier's book, Taste Buds and Molecules.
Perhaps the most powerful, and even empowering, elements of the book are the charts that link a main flavor with all of the culinary components and wines with which it shares a common molecular makeup. Take maple syrup, for instance: it includes beta-caryophyllene and furanones, woody and caramel-tasting molecules respectively, which chemically (and flavorally) link it with oak-aged wines… as well as licorice, coconut, peaches, and even roasted fenugreek seeds.  Take any of those flavors, and any wine with prominent oak flavors, and you're going to pair just fine. As a general resource for creating highly inventive and well-paired meals, these charts are culinary gold.
With the small caveat that the book is sized rather too small to be a truly useful tool for playing in the kitchen and wine cellar, Taste Buds and Molecules is a must-have for oenophiles-turned-cook or cooks looking to pair wines with more confidence.