The first thing you notice when you make your way into Downtown LA's newest brewhouse is the sheer number of taps behind the bar–100 in all.  But the Los Angeles Brewing Company (950 S. Broadway) isn't just about quantity, it's about quality.  This stylish and lofty bar and restaurant offers one of the most diverse arrays of craft brews that you'll find anywhere in the city.
This might not be the typical neighborhood to find such an establishment, but setting up shop in the middle of downtown allowed proprietor Ralph Verdugo the opportunity to open a spacious and friendly beer-lovers paradise that is accessible to aficionados from all parts of this notoriously expansive metropolis. Open daily for lunch, LABC offers business-types the ability to take a much needed break from the work day with a veritable laundry-list of beer and bar bite pairings.
On a recent outing, I enjoyed some tasty Brewery Sliders–made with a proprietary, chorizo-like meat blend–and washed them down with a refreshingly bitter Dogfish Head 90 Minute IPA.  In the kitchen, Chef Carlos Garcia does a superb job of crafting dishes to compliment the multitudes of flavors provided by the endless selection of beers.
While seated at the impressive cracked mirror glasstop bar, the chef brought me out an earthy, robust cream of mushroom soup with fried shallots that was hearty but not too thick.  It was the perfect accoutrement to the similarly deep flavors of Great Divide's Yeti Imperial Stout–the same deliciously dark beer that they use on their desert menu to accompany a cinnamon roll made with actual Guinness.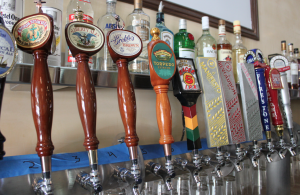 Los Angeles Brewing Company is open daily until 2AM and their kitchen dishes out the goodness until midnight, so its the perfect spot to hit up after an exciting evening at nearby LA Live, or after a Lakers or Clippers game.  As baseball season is right around the corner, it's also an ideal locale to catch the action on TV, with several huge projection screens strategically placed throughout their vast interior.
Although they do offer it on draft, LABC is not exactly the place to come if you're a Bud or Miller kinda guy.  This hip new spot is designed by and for the craft beer junkie.  If you fall into that category, pay them a visit the next time you're in town…You won't be disappointed, and you won't leave thirsty.