Drink Me just got back from Trinidad and Tobago – the beautiful south Caribbean island home to soca music, bake 'n shark sandwiches (deep fried shark in a fried bread bun with mouth watering toppings) and ground zero of  the world famous Angostura bitters and rum. The Brand that has brought your little bottle of bitters and has been aiding your cocktails for years has an entire line of rums that are bursting into the US in a big way. We joined about a hundred other people for an exclusive tour of the distillery (stay tuned for a recap of Angostura Rums and some wonderful photos from the trip) and then were welcomed to the prestigious Angostura Global Cocktail Challenge… 15 bartenders from around the world competing in front of a panel of judges vying for the world title, a significant cash prize and the prestige of being the Angostura international ambassador for the following year. Coming out on top to win both the best freestyle cocktail and the grand prize was David Delaney from Boston. A huge congrats from Drink Me!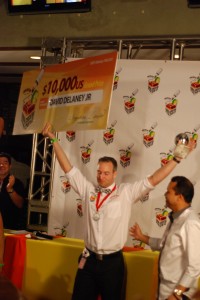 Prior to the competition, we sat down with head judge and famed mixologist Tony Abu-Ganim, to ask him a few questions before the festivities began. He candidly discussed what they werre looking for – a well balanced, quality cocktail that translates well around the world.
Key points are given to appearance and creativity, but the personality of the bartender is important as well.
It's got to look good, smell good and have an amazing taste to boot. The bartenders all got 7 minutes to create two original cocktails – one focussing on Angostura Rums, and the other that features Angostura bitters. The breadth of international competitors brought out a schmorgasboard of local ingredients and obscure international flavors – from Kola nut to Malaysian coconut jelly. Other judges included Eric Forget, the cellar master at Hine Cognac for over ten years; Jacob Briars, the master mixologist and expert on bitters; Vidia Doodnath, the Executive Director of Technical Operations at Angostura; and Andy Griffiths- the winner of last year's Global Cocktail Challenge and a Kiwi who manages the Cookie Bar in Melbourne.
THE COMPETITION took place at Trotters bar in central Port of Spain in Trinidad. Each bartender took to the bar in front of the panel of judges and a slew of media, consumers and industry professionals from around the world. Each contestant had to create two original cocktails in seven minutes. Each cocktail seemed to outwit the ones before it, and there were some absolutely creative drinks presented.  As media, we were able to taste some of the most interesting and original uses of rums and bitters we've ever had. Hours of shaking, swizzling, mixing and presenting lavishly garnished drinks, the winners emerged. In the end, David Delaney emerged the winner of overall competition as well as the freestyle category with his drink "On Second Thought" a fantastic cocktail with Laird's Applejack, Benedictine, Cherry Heering, Maple Syrup, fresh lemon juice and Angostura Bitter – which he entered into the competition last year and explained to us that he knew it was a winning cocktail, he just needed to tweak a few things in the recipe. David was shocked and told us he needed to get to a phone to let his family know. He expressed complete awe that he won against a team of incredible bartenders from around the world. Riki Carter took second place and Jamaal Bowen placed third.
THE BARTENDERS The 15 competitors ranged from 6 continents and brought a unique slant on all that they created. Getting to compete in Trinidad was no small feat. Each competitor had to first prove themselves through range of contests in their home territory.  Roxanne Read hails from South Africa, and manages a bar at the forefront of molecular mixology – a relatively new trend in the country. Her rum cocktail had a rooibos syrup, made from south African rooibos tea. Rizal Junior Johari represented Malaysia in the competition – he sat with us and explained how he created a twist on the piña colada using a local coconut jam. He's the manager of the famous Gtower bar in Kuala Lampur, where he said the cocktail culture is 4-5 years behind some other parts of the world, but quickly catching up. Joe Sinagra represented Australia and brought in a bold cocktail using Angostura Rums, coca cola and vanilla ice cream. Jamaal Bowen from Barbados didn't have to travel too far – he came in with many awards and explained to us his use of very Barbadian ingredients – lots of sage, falernum, and even a kola tonic made from kola nuts. Maxence Traverse is the manager of le boudoir in Hong Kong and has worked around the world behind bars. He created a very intriguing cocktail using Bunnahabhain Scotch, cherry brandy, Angostura bitters, creme de cacao and rosemary. Representing the EU, Guiseppe Sanatamaria flew in from Barcelona in hopes to win his 6th cocktail competition. Indian bartender Dhanpal Parmar brought life to the competition in his bollyhood style shaking and sheer enthusiasm. Representing the Kiwis, Rikki Carter hailed from Matterhorn bar, voted the best bar in new Zealand. The Americans had a few representatives – the final winner - David Delaney Jr from Boston (who told us he focusses on using classic ingredients from the 1800′s), Rachel Ford from ford mixology lab, from new York/previously San Francisco (who writes for Drink Me!), and Ryan Maybee of Kansas city (owner of Rieger Hotel Grill & Exchange). Russia's representative, Ilya Bubashvili, got into drinks while playing with fruit compote as a kid – he presented an impressive drink with rum cocktail with freshly smoked rosemary. Coming up from Argentina, Ezequiel Rodriguez represented South America. On her home turf, Carla Cupid is "Trini to the bone" and was Trinidads first female bartender of the year. She didn't have to look far for her local ingredients. Lastly, Natassia Martin represented the UK (even though she's originally from Trinidad) and brought in some creative ingredients to her cocktails including a home-made chai syrup.
In the end of the day, it was a grand old fete to celebrate Carnival, and we all played masquerade, had amazing drinks together as we danced across the city.  We had our first rum and coconut water – a great mix and perfectly fitting for the intense tropical heat. We limed (partied), drank copious amounts of delicious Angostura Rum and danced away the heat with some of the best bartenders in the world. We're eager to get back to Trinidad and Tobago, but until then, we've got the spirit of the country in our bottle of Angostura.
Just to get you in the mood: Amazing Carnival Music Video