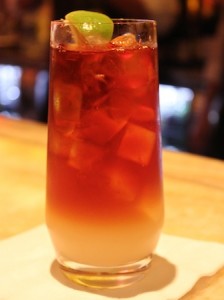 A delicious libation consisting of dark rum, lime and some ginger beer.  It's got rich molasses, tropical fruits, white pepper and spicy ginger notes.  All you need is a collins glass, some booze, and ginger beer, really….
Dark & Stormy:
2 oz Goslings Rum
1 oz Lime Juice
2 Dashes Angostura Bitters
Ginger Beer to fill (Bundaberg or Fever Tree work well)
Add ice to a tall collins glass.  Add rum, lime, bitters, and ginger Beer and stir.  Garnish with a lime wheel if you like.
Sometimes I'll build the cocktail in the glass without the Rum and save some room at the top.  I like to float the Rum on top and have it slowly trickle into the cocktail so it looks "Dark & Stormy" before it hits the guest who's about to enjoy it!