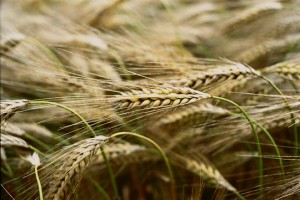 Terroir is a winemaking term. And, understandably, some might find the application of the term to whiskey inappropriate and pretentious.  But then, some might find people who pepper their language with accented French terminology to be pretentious regardless of their drinking preference. In any event, terroir is the idea that the local environment affects the flavors of the wine produced. The raw materials and environment impart certain unique flavors, for better or worse, that are specific to the region.  So how does this French winemaking term relate to our beloved water of life?
On the surface, the impact of terroir on whiskey appears to be more than a drinker's whiskey-addled epiphany.  The traditional segregation of Scotch into distinct whiskey-producing regions screams of terroir.  Each region is distinguished from the other by unique flavor profiles, not just geographic location. The Lowlands are famous for their light and floral flavors while Campbeltown whiskies are known for their ruddy, big bodied flavors. Highland whiskies are fruity and fresh and Speyside whiskies are appreciated for their dark fruit and spice notes.  Island whiskies that are associated with salty ocean air have wisps of smoke, and finally, Islay whiskies are exalted for their bold peaty and smoky flavors.
Seems straightforward, however, the concept of terroir, as limited to its original winemaking etymology, does not quite fit the modern mold of whiskey making.  Whereas a classic winery will produce wine from local grapes, a distillery does not necessarily use locally grown grains.  So often the grain and soil have little relationship to a distillery's locale. As such, the fundamental component of whiskey, malted barley, is a free agent owing little loyalty (or flavor) to a particular distillery.  Rare is the distillery that sources their barley locally, let alone grows it.  The vast majority of the barley used in Scotch is imported from outside of Scotland.  So for many whiskies, the flavors that are imparted by barley have little to do with terroir.
In times past, one could certainly rely on the peating of whiskies as an example of their terroir pedigree.  The burning of decomposed vegetation – peat – to dry malted barley was more of a necessity than an additive to impart smoky flavor.  Alas, while peat certainly accounts for the 'terra' ("earth" in Latin) in terroir, it is no longer the signature flavor of distilleries that happen to be situated near a one-time peat bog.  It's not uncommon for distillers to peat whiskies with soil from distinctly different regions.  Even more perverse is the fact that peat is no longer the exclusive dominion of Islay Scotch.  Highland, Speyside, and even Japanese distilleries now offer an array of peated whiskies.  At a risk of making it more confusing, there are also non-peated whiskies from distilleries that traditionally use a heavy peat hand.  Peating whiskey is now a deliberate choice (a very trendy one) that is decidedly not a happenstance of the environment.
Then there is the barrel – the foreign mercenary that is brought in as a major influencer of any whiskey's flavor profile.  Needless to say, the Spanish sherry butts (used wooden casks), the American bourbon barrels, and the port pipes have no relation to the terroir of a whiskey no matter how broadly one applies the term.  While it is still possible to find Scotch aged in Scottish oak, and bourbon in American oak, these are the exceptions to the rule.  But in all fairness, terroir in the classical sense is a statement of the local environs' influence and not of the nature of the barrel used.  As such, it is fair to reason that terroir, even when used in whiskey circles, refers to non-barrel elements.
One would think that the door was shut on the terroir concept as applied to whiskey.  But alas, there are still the water and air elements of the whiskey-making process.  Many distilleries are vocal about the virtues of their local water and the characters it gives their whiskies.  As any local water source draws its balance and mineral content from the nearby soil and rock, it is well within the traditional bounds of terroir and its application to whiskey.  In fact, a test by Mike Miyamoto, Master Distiller at Suntory's Yamazaki distillery in Japan, proved the importance of water's affect on whiskey. Suntory has two malt whiskey distilleries:  Yamazaki and Hakushu.  Each distillery produces a distinctly different whiskey in different regions of Japan.  Water was taken from the Yamazaki distillery and transported several hundred miles away to the Hakushu distillery where it was used to produce whiskey.  The resulting whiskey actually took on the flavor profile of Yamazaki even though it was distilled at Hakushu.  A reverse experiment was also performed and again, the flavors of the whiskies aligned with their respective water source.
Perhaps even more important is the climate and related geography of a distillery.  As whiskies mature in their barrels, the alcohol slowly evaporates as the angels take their share and the depleted whiskey is naturally replaced by local air.  Thus, coastal distilleries are likely to have the local atmosphere impart a salty, sometimes briny characteristic in their whiskey.  In the same vain, you are much less likely to get a salty profile from a Highland whiskey, aged in airs far from the sea.  It's fair to say that whiskey profiling is not entirely void of a traditional sense of terroir. Perhaps a more accurate term (lacking the winemaking baggage and ire) could be employed but we'll leave that to Scottish linguists.
If you find yourself drinking in circles frequented by pedantic purists who wince while you take a few liberties with language and appropriate the word "terroir," perhaps it's time to drink a little more and care a little less.
By Chris Jew And Nate Nicoll from WhiskyWall