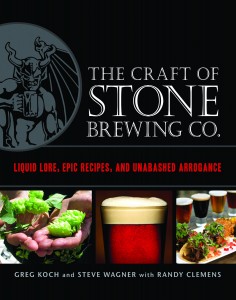 The Craft of Stone Brewing Co.: Liquid lore, epic recipes, and unabashed arrogance
Authors: Greg Koch and Steve Wagner with Randy Clemens
Subject: Craft beer and the history and lore of Stone Brewing Co.
Synopsis and Review: Any beer drinker worth their hops is going to be a fan of Stone Brewing Company's beers.  And as is so often the case, any company with such a following is going to be run by some pretty interesting characters.  Greg Koch and Steve Wagner certainly don't disappoint, as their newly-released book is a fairly intimate glimpse into their philosophies on life, high-fructose corn syrup, and beer.  With a big dose of focus and organization from Randy Clemens, they've pulled together a beautifully illustrated and quite exhaustive look at how Stone has trail blazed a path for craft brews.
These guys make a beer called 'Arrogant Bastard,' so it's no surprise that there is a good dose of arrogance going on in this book (well meaning, I'm sure).  It tries to be a book for everyone out there: in addition to a history of Stone, quick write-ups of all the Stone beers, and recipes for home-brewing your own Stone concoctions, there is a very lengthy and very basic introduction to the properties of beer, along with a primer for homebrewing.  While it's all very comprehensive and helpful, you've got to wonder if the average buyer of a book about Stone Brewing Co. really needs to be told what hops and barley are.  That being said, advanced readers of the book can still glean some grains of knowledge from the very well written 'Nature Of Beer' selection (I dog-eared the pages with charts explaining all the different malt and hops varieties).
Why We Recommend It: Arrogance aside, it's a gorgeous book, and the history of the brewery is told in a warm, entertaining way.  The story of the Arrogant Bastard Ale is revealed in all of its serendipitous glory, though the recipe for it is a conspicuous omission from Part Three.  Profiles and descriptions for every one of their beers are included, from that first Stone Pale Ale through every last collaboration beer.  Not to be outdone by similarly arrogant wine tomes, there are also nineteen recipes for dishes that pair perfectly with the beer.  At $25 and 208 pages, this book is a perfect gift for the beer lover on your list.  As founder Greg Koch says, even if they don't read it, it still makes "a badass coffee table decoration."
About the Authors: Greg Kock and Steve Wagner founded Stone Brewing over ten years ago and have grown it into the biggest brewery in Southern California and a beacon in the craft beer movement throughout the country. Need I say more? They've written it with Randy Clemens, who is a BJCP Recognized Beer Judge, established beer writer, and PR coordinator for the brewery.