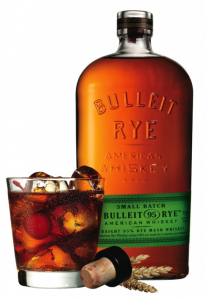 Much mystery surrounds the history of the Bulleit family and their tradition of producing whiskey. Augustus Bulleit set out to create a distinct and distinguished whiskey back in the 1830s, and after years of experimentation finally hit his mark with Bulleit Bourbon, a spirit higher in rye content than most bourbons, giving it a very different character from the corny bourbons so prevalent at the time. While transporting barrels of his bourbon from Kentucky to New Orleans, Augustus disappeared, never to be heard from again. Luckily for us, more than 100 years later the great great grandson of the same man decided to rekindle the long-lost family tradition, and did so swimmingly. He uses the same small-batch processes as his great great grandfather, utilizing the Kentucky limestone-filtered water that has made the area famous and aging in oak barrels "until it's ready," then bottling his spirits in a bottle that has won some awards of its own.
For most bourbon drinkers, the name Bulleit has become synonymous with high quality at a very reasonable price. Coming in at virtually the same cost as Jim Beam and its Tennessee whiskey counterpart Jack Daniels, Bulleit "Frontier Whiskey" has long been a favorite amongst mixologist and bartenders, and those in the market for a high-end product at an entry-level price. Finally, after toiling for seven years to perfect the recipe, Tom Bulleit has now released a straight rye whiskey, a natural step from the high rye content bourbon his family was famous for, and one of the most anticipated spirits in recent memory amongst the cocktail community.
Bulleit Rye contains 95% rye, which Bulleit gets from the finest available sources spanning the globe, and 5% barley. It is 45% alcohol by volume, bringing it to 90 proof, just the right amount of heat for sipping or mixing. It is just as smooth and buttery as its big brother bourbon, but with even more prevalent notes of cherry and spice expected from a higher rye content. There is a distinct tobacco character on the finish, which is long and smooth. At times there are hints of vanilla and orange peel as well, but the spice is what really stands out and makes this a distinct whiskey.
This is a rye that is not only  perfect for sipping, but also plays very well with others. While doing research for this article I mixed it with quite a few different spirits, juices, bitters, and soda (water, not pop). It was spirited and full of character when taken straight, and faded perfectly into the mix as a base note without overpowering or stealing the show. Compared to top-end ryes on today's market, this one drinks with the best of them, at sometimes less than a third the cost. Supplies are limited for the moment, but as soon as you have the chance, this is one you don't want to miss.