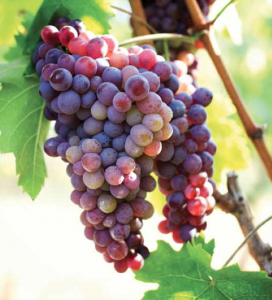 Supposition: Organic wines don't age well.
Supposition: Organic wines don't contain sulfites.
Supposition: Organic wines are better for you.
Supposition: Organic wines are better than non-green wines.
All of the above may or may not be true – to a certain extent. Proving any or all of the above is akin to proving the existence of God.
In the end, all of the above are bubbe meises (grandma's tales to you) because, do we really know, really?
But one thing I wish to make clear, green wine or natural wine, organic wine or biodynamic wine is most likely better for every one and every thing.
We've seen a proliferation of these "bio" wines in the last ten years and many are made with the notion of improving the environment. But I know some producers who've actually told me that they produce them not necessarily for altruistic reasons. They make them for the pragmatic reason that the elimination of chemicals likely results in better health for vineyard workers (which of course, is a good thing), which costs vintners and winery owners less for healthcare (which is good for the producers).
But in the end, and in the words of my grandmother, "It couldn't hurt." (Which she pronounced hoit.)
I want you to know right off the bat that I welcome organic wine, just as I welcome anything organic. I've been eating organically for well over thirty years – long before it became a fad and now a trend, and reaching critical mass. And I'm still here to write these words to you, still sentient, as well as crazy after all these years.
I can't prove unequivocally that these new-age wines taste better than non-biologic wines. Nor can I testify that these wines last as long as conventionally produced wines. Conventional wisdom as a matter of fact, points to organic wines not aging well. One reasonable theory holds that this is because so-called organic grapes are not subjected to sulfur in the vineyard. And sulfur plays a preservative role in winemaking.
However, sulfites (the esters of sulfur) are a natural by-product in the fermentation process. It's unavoidable. When yeasts eat the sugars in grapes, converting the latter to alcohol (the process by which one converts grape juice to wine), the little buggers excrete sulfites.
(Sulfur and sulfites, please note, are organic products. It's just that some people may or may not be susceptible to sulfur, manifesting headaches.)
But so far as whether or not organic wines age well or not, many winemakers (most of whom I suspect eschew bothering with organic wines) strongly believe that organic wine ages poorly, if at all. Listen to Barb Spelletich, an iconoclastic winemaker in her own right (despite not making iconoclastically perceived organic wine for her family's tiny Napa Valley winery – Spelletich Cellars):
"The lack of SO2 (sulfur dioxide) in wine production is the difference between stability and instability for organics. Also, with the requirements for organic winemaking, in addition to grape growing, the wines lack a lot of nutrition necessary for clean ferments and this is also why the wines develop off odors and flavors over time."
That said, I'll say: so what does it really matter? What does it matter if organic wine doesn't do well in the cellar? (Keep in mind that a properly temperature-controlled space is the only way a wine can age well at all.)
Because, at the start of the twenty–first century, most younger people who are the ones who are drinking wine like never before in American history, couldn't give a fig about putting a wine down or aging it beyond let's say, tomorrow. They couldn't care less whether or not their wine can go the distance. They seem instead to want it now. Aged or old wine they seem to believe is your grandpa's wine.
I'm thrilled to no end that the demographic of 25-45 years of age, are experimenting with wine more than ever. It's fantastic. Restaurant wine lists (some of which are now written to I-Pads) are larded with some of the most idiosyncratic wines such as orange wine (mostly European, whose white grapes have been left to dry in the sun), and green wine, which includes organic, biodynamic, and "natural wine."
So-called "orange" wine are bio wine, which is what you can say about most any type of wine. They are perhaps the most idiosyncratic wines being produced today. These are treated similarly to red wine in that they are often fermented in barrel and given some wood aging. The most discernible difference is that orange wines are naturally light to medium orange in tinge, and are full of nuance and texture. And in a blind tasting they can readily be taken for a light red.
Green wines include organic wines, which are not always what they may seem. In most cases, when a wine is designated as "organic," only the grapes might be such, but the process in the cellar and during time of crush may not be. Additionally, many wineries are loath to place the word "organic" on their labels for fear of turning away some of their customers, which means that there's still a stigma attached to organic.
Furthermore, a large portion of California grape growers and wine producers are now eschewing chemicals. But they are not officially certified as organic because the process to get to organic is wrought with regulation. For instance, a vineyard must sit fallow for three years in order to leach out any impurities in the soil. That's a long time – without revenue – for most wineries to wait for certification. Most wineries then choose the term "sustainable," which, for purists, is obfuscation at worst or meaningless at best.
Organically grown grapes are becoming a fast-growing segment of the wine industry. According to a survey published by Business Society, of more than 13,000 wines that are certified "eco" (wines that meet regulated standards of organic, etc.), seven per cent command somewhat higher prices and higher scores. But by highlighting on labels that eco-practices were used, often prices were reduced by an average twenty per cent. But only about one-third of those wineries actually mention on their labels that they are eco-certified.
Further, the average price for a wine with an eco-friendly label was $37.65. Wines without mention of that fact, sold for an average of $40.54.
Regarding "eco" wines, Magali Delmas, associate professor of management at UCLA concludes, "Consumers buy it for the benefits they get. Very few people do it for the environment . . . Quality and health are the two main reasons people buy eco-labels. I think it's a little difficult to make this connection with health and wine because of the alcohol. If you want a healthy drink, you probably go for wheatgrass before organic wine, unless you're French."
Then there's "biodynamic wine," which stemmed from a theory that Austrian philosopher Rudolf Steiner brought forth in the 1920s. It was first adopted in the 1980s by the Europeans (the Euros are far ahead of us in eco-wine making), and first adopted by the Californians in the late '90s. Utilized in winemaking, the hypothesis is gaining a foothold among true agrarians, and spiritualists. But on the face of it, biodynamic farming seems of the netherworld or just plain kooky.
The point is to be "at one with nature." By doing so, one practically buys into the notion of stuffing a cow horn (from a cow that has had at least one calf) with a mixture of eye of newt (place happy-face emoticon here). Actually, it's a mixture of organic matter, including dung that is buried in the vineyard for months, and then when the moon is in its right place, the tincture is sprayed on the vineyard. Thus, eliminating pesticides and all that bad stuff, but adding a great story, and perhaps creating an even better, healthier wine to drink. Do biodynamics make the wine better? Who the hell really knows?
It's another green wine, "natural wine," that is the latest fad amongst winemakers — who, like many chefs these days, don't know what the heck to do with themselves. And to stay ahead of the competition, these producers are going against the grain.
These sorcerers, who are attempting to foment a movement, use only wild or indigenous yeast naturally hanging around the vineyard and the cellar, as opposed to utilizing inoculated yeasts. The latter can offer the winemaker an amazing array of flavors, but with wild yeast, one gets what one is handed. It's a risky business to be sure, but one which these tightrope walkers and iconoclasts are willing to play. They say, with a philosophy to which I adhere, that using native yeasts give a wine the taste of the place from where the grapes were grown. But wild yeasts demand careful attention for fear they may run rampant.
However, this philosophy is without regulation (as with so much in this business of wine, e.g., what's an "old vine?"), which suits these independent thinkers. But it may leave the marketplace fraught with wines that the consumer has to approach with caveat emptor (in other words: buyer beware).
As with most any product, the buyer must pay heed. The story is no different with eco or green wines. In the end, it's got to be better for everyone and anything in the world to eliminate herbicides, pesticides, and all other cides.
A partial list of eco-wines to look for:
Arianna Occhipinti, Sicily
Natural Process Alliance, California
Scholium Project, California
Unti, Dry Creek Valley
Serge Faust, Champagne
Vouette et Sorbee, Champagne
Eugene Meyer, France
Vieux Télégraphe, France
Bonny Doon, California
Haut Garrigue, France
Zind-Humbrecht, France
Alma Rosa, California
Sokol Blosser, Oregon
Retief Goosen, South Africa
Montinore, Oregon
Domaine Leflaive, France
Quintessa, California
Chapoutier, France
Alois Lageder, France
Araujo, California
Domaine Marcoux, France
Benziger, California
Raymond, Califiornia
Movia, Slovenia